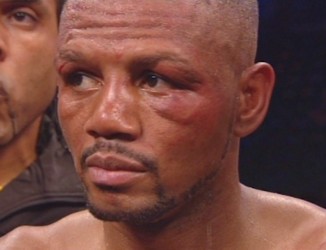 By Frank Gonzalez Jr. — After eleven months of inactivity, Nate "The Galaxxy Warrior" Campbell (33-5-1, 25 KO's) was finally back in action Saturday night at the Bank Atlantic Center in his home state of Florida, where he failed to make the contracted weight of 135 pounds and lost his WBA/IBF and WBO titles on the scales before the first bell rang to start the fight against Ali Funeka (30-2-2, 25 KO's) of South Africa.
Relatively unknown Ali Funeka proved to be a high quality boxer/puncher. Had he beaten Campbell, he would have taken Campbell's lost titles back home to Africa. Funeka's only claim to fame on this side of the planet was his KO win over slick boxer, Zahir Raheem last July. At six-foot-one, Funeka uses his height and his long jab to dictate the action against typically smaller opponents.
The fight started out with Funeka introducing his jab to Campbell numerous times in a feel out round that felt like 10-9 in favor of Funeka. Things changed quickly in the second round, when Campbell opted to take away Funeka's height advantage by keeping things close on the inside. Campbell dropped Funeka with an overhand right to the head. Campbell proceeded to take control from rounds two through four, overpowering Funeka on the inside and always looking to land that overhand right.
Funeka persevered, using his long jab to keep Campbell out of range and contained from rounds five through ten as he out-boxed and out scored Campbell with relative ease. Campbell appeared fatigued and likely to lose the match when suddenly, in the eleventh round, Campbell managed to land that favorite punch of his and put Funeka down for a second time in the fight. In the final round, Campbell was chasing a knockout that didn't come but won the last round with a final burst of energy and aggression. I added up my scorecard and had it a draw at 113 a piece. It was a strange fight that saw the momentum shift a few times, with plenty of action throughout.
Many in the audience booed after the final scores were read rendering Campbell the winner by a Majority Decision. Two Judges favored Campbell by scores of 115-111 and 114-112. The South African Judge was the only one who scored it right in my opinion, a Draw at 113-113. Ali Funeka appeared to take the news of his loss hard, showing great distress, as his corner people tried to console him. This fight was very close and merits a rematch. But since Campbell can't make 135 anymore and is moving up to 140, there's no point in it.
Though Campbell won against Funeka, his titles remain up for grabs for whoever the promoters decide are the most "marketable" choices. The Jr. Welter division is stocked with plenty of tough fighters and four titlists in Andreas Kotelnik (WBA), Juan Urango (IBF), Kendall Holt (WBO) and Timothy Bradley (WBC titlist). Campbell would be a tough proposition for any of those but promoter politics will determine who Campbell fights next. Campbell vs. the winner of Bradley vs. Holt would be a great fight. Actually, Campbell vs. any of the top dogs at Jr. Welter would be a great fight, so don't expect any of the top guys to be anxious to face him.
As for Ali Funeka, I'd like to see him against any of the top guys at 135. He's a smart fighter, who uses his jab well and showed good stamina against an always dangerous Nate Campbell. Funeka could be to the 135 pound division what tall Paul Williams is to the 154 pound division—a tall man who knows how to use his height and packs good power in his punches.
* * *
Comments can be emailed to dshark87@hotmail.com