By Loren Robinson: This was the one boxing division always dominated by the United States of America (USA). There have been numerous America champions in the past such as Jack Johnson, Rocky Marciano, Larry Holmes, Muhammad Ali and Mike Tyson. However, currently there are no American heavyweight champion boxers. All of the current heavyweight's champions are from countries outside of the USA. What happened to American heavyweight boxing?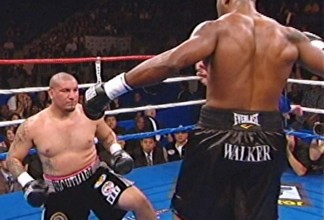 Throughout the history of boxing the USA has dominated heavyweight boxing. For example, the best heavyweights in history of the sport are mostly American such as Muhammad Ali, Joe Louis, Mike Tyson, Rocky Marciano and George Foreman. These boxers helped make boxing very popular in their era when they dominated the sport. Mike Tyson helped keep boxing popular in America by his utter dominance of the division in his prime. He represented how a powerful heavyweight American boxer can create excitement and give a reason for the casual sports fan to watch boxing.
On the other hand, America no longer dominates heavyweight boxing. There are multiple champions in the heavyweight division and none of them are American. Heavyweight division is currently being dominated by eastern European fighters and there are hardly any American fighters even in contention for a shot at the title. Wladimir Klitschko and Vitali Klitschko are heavyweight champions that are from the Ukraine. Likewise, heavyweight champion boxer Nikolai Valuev is from Russia. Similarly, most of the best upcoming heavyweight boxers are from outside America such as David Haye from England and Alexander Povetkin from Russia.
However, the heavyweight division does have a few American heavyweights in the division that may one day be champion. The best young American heavyweights currently are Chris Arreola, Eddie Chambers, and Kevin Johnson. Kevin Johnson is unbeaten with a record of 21-0-1. He has good boxing skills and a nice jab. But, he lacks power with only 8 KOs and that may be a problem as a fighter in the heavyweight division. Moreover, Eddie Chambers is a good prospect. He is 30-1 with his only loss coming against another young prospect Alexander Povetkin. He has fast hands, good boxing skills and decent power. Likewise, Chris Arreola whom many considered to be the best American heavyweight boxer today is a very good heavyweight prospect. He is 25-0 with 22 KOs. He has excellent power and good size at 6-4. He additionally is fun to watch and is an offensive minded fighter that knocks people out.
To conclude, heavyweight boxing is like the rest of professional sports in that there is just now better competition because the rest of the world is just as good as America. But, there will always be a few good America heavyweight fighters. However, the skill and ability of the fighter matters more than where the fighter comes from in this day and age of boxing. All things considered, the division will never again be utterly dominated just by American fighters like it was in the past. The reign of Americans ruling heavyweight boxing has officially ended.