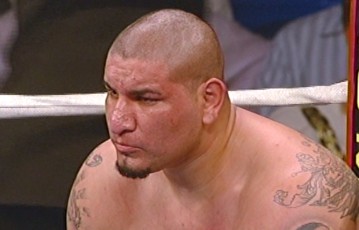 By Vivek Wallace: Ok, call me crazy, but after watching a poorly conditioned Chris Arreola put away what I would consider a highly under appreciated opponent in Travis Walker, I had this crazy idea. I guess that word 'crazy' probably depends on who you ask, but before I get to that idea, it probably makes more sense to analyze what appears to be the newest heavyweight contender to have his name tossed around with the words 'serious contender' attached to it.
What I continue to notice in Arreola is that despite the rubber armor he wears, this dude can take a punch and land a better one!
Now, I know someone – or actually quite a few people out there – are thinking to themselves…."He got dropped and was getting pasted prior to that". Well, my response is three-fold. For one, he laid on the ropes and was clearly attempting to taste the guys' power. Secondly, he openly admitted that after sampling his opponents power for too long he was subsequently caught with a 'banger-on-the-button' which I didn't think fazed him too much at all. Last but not least, despite the poor first round and poor conditioning, he NEVER appeared winded or tired. (And he was 20 pounds north of where he physically belongs, ideally).
What I saw in Arreola was a guy who – similar to Pavlik and Margarito – once he gets tagged a few times and wakes up, he can be hell to deal with.
Many will jump on his appearance and use it to clown him but technically, I think you have to look well beyond the frame and analyze the actual product itself. Absent is the six pack, present was the brute strength and power. Absent is the flashy Ali speed, present is an aged George Foreman like methodical plodding that leaves little room to be discouraged by an opponents aggression.
I think when you see things realistically, you have to understand that despite the things that weren't impressive, there's a major potential hidden behind those things that are.
David Haye is the breath of fresh air that many expect to take the heavyweight division by storm but honestly, I think it would be a helluva fight between the two young guns if it were to happen. Haye has all the athleticism in the world but his chin is still an unsolved riddle. That makes things a bit intriguing because Arreola appears to be one who would definitely come forward and try his luck at that chance.
Haye has only fought ONE (yeah, one) opponent on the heavyweight level and is no where near as tested on this level as Arreola, despite the fact that he's touted so highly. The flipside to that is that Arreola hasn't quite fought anyone with his athleticism and power, so clearly when you toss aside personal agenda's, it's a fight worth seeing.
We've recently seen Antonio Margarito represent what many fight fans view as an unofficial template of the prototypical Mexican fighter, and Arreola apparently carries that same style, less the constant punch output. The chin, the power, the will; All seem to be qualities of Arreola, and I don't know where his ultimate place in the heavyweight division will be, but it'll be interesting as hell to see a fighter with that Mexican grit and will to win try to carve out his way in the sports weakest division.
As far as the possibility of Arreola actually facing Haye, I think there's a huge contingent out there that would love to see that, but will it ever happen? Hmmm…I don't know….Call me crazy, but what I do know is that I can't be the only one out there wondering what if?…….What do you think?
(Starting Monday I'll present a '7-Gun Salute' which will devote a new article daily to the pending Pacquiao/De La Hoya – 'Dream Match'. For daily line-up see details below).
Mon: 'Snapshot': A Look At The Legacy Of Oscar De La Hoya (A look at career milestones of Oscar).
Tue: 'Snapshot': A Look At The Legacy Of Manny Pacquaio (A look at career milestones of Manny).
Wed: The 'Left-Hook Lounge': (My weekly mailbag dedicated this week solely to Oscar and Manny).
Thu: Champs, Chumps, Controversies: Fight Fans Reaction To The 'Dream Match' (A look at how fans view this matchup)
Fri: 'Call Em Out Fridays': (My weekly 'spotlight' article, analyzing the pro's, the con's, and the neutral take on the two fighters involved)
Sat: Keys To Victory, Four To Explore, and Official Prediction (Talking fight strategy, key effects to watch out for, and fight prediction).
Mon: Pacquiao/De La Hoya – 'The Aftermath': (Posted Monday, Not Sunday – A Recap and a look at where the two fighters go from here).
(Got Questions or Feedback?: Contact ESB's Vivek Wallace at vivexemail@yahoo.com and 954-292-7346, or show some love at www.myspace.com/anonymouslyinvolved)