By Paul McCreath, photo by Wray Edwards / ESB – As if the towering presence of Nicolay Valuev is not enough to scare off a lot of heavyweights now we have another Russian giant on the way. This one is not quite as large as Big Nic but at 6 foot 7and 1/2 inches tall and around 300 pounds he will do. At that size Alex Ustinov is probably the second biggest heavyweight in the world. There are probably several lower level heavies who are a bit taller and of course Butterbean is heavier but for all around size I think Alex is second only to Valuev..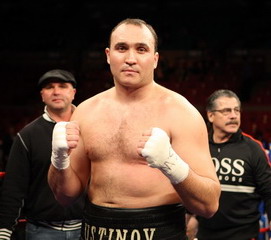 Now of course size is not everything in boxing.We have had several really big men in recent years who fell considerably short in the skills department. The name Tye Fields comes to mind as one with which most of you will be familiar . The majority of big men have the same problems. They tend to be slow and usually don't punch their weight. If truth be told a lot of them can't fight a lick and rely only on their size and strength to roll through the soft touches before being flattened by their first talented opponent. Still we have to admit that if all other things are equal that a good big man will usually defeat a good smaller one. Valuev proved to us that even with modest skills you can compete with the best in today's rather sad looking heavyweight division if you are big enough.
A man the size of Alex Ustinov is pretty hard to ignore but is he for real? It is impossible to say for sure at this early date but let us look at a few facts before we try to make a prediction on what his future may bring. Alex was born in Postovo in Russia in 1976 and will turn 32 in December.He now lives in Minsk in Belarus and has had 12 pro fights, all wins with 10 KOs. He is with the Klitschko brothers promotional team K-2 East but earlier in his career he fought under the guidance of the controversial Ahmet Oener for a time. Oddly enough although he is a Russian he has never fought as a pro in his homeland of Russia .He has appeared 4 times in Germany, 3 times in Belarus, twice in Ukraine, once in Czech Republic, once in Madison Square Garden in New York and this past weekend fought in China. He clearly gets around, thanks I am sure to his connection with the Klitschkos. Although 32 is a bit old for a prospect in this day of 40 year old contenders his age is unlikely to be a problem.
Unlike most big men who enter boxing Alex has a solid background in combat sports. He was an outstanding fighter in K-1 or Muay Thai and won both the IFMA and WFCA world championships in 2006 when he was already beginning his pro boxing career that started in May of 2005. He has also won several other major kickboxing tournaments. In MMA he has won all six bouts, 5 by KO. This is one tough guy. I have seen some of his fights and he appears to be much more aggressive than Valuev and packs good power. His chin seems very solid and he has been tested many times. This is one cause for worry. His defense definitely needs more work but he is faster than one would expect for such a big man. When hit with a solid blow he does not hold but goes on a furious attack.
Alex began his pro career with 8 strait KOs with the last one coming in New York against trial horse Earl Ladson in 1 round on the Wlad Klitschko-Ibragimov undercard. He followed that with an 8 round decision over tricky veteran journeyman Sedreck Fields in Ukraine. Next up was his toughest test so far,another undefeated Russian Rudolf Abramyan who came in at 11-0 with 10 KOs. This fight also went the full 8 with another win for Alex. In his last fight this past Saturday he disposed of Brazilian punching bag Daniel Bispo in 2 rounds in China.
It should be clear that Ustinov is not about to break into the top 20 any time soon. In spite off dissenting opinions by some experts I believe there are lots of heavyweights who could beat Alex right now. It is going to take some time before Alex is ready for world class foes. My guess is about two years but in the meantime it is going to be fun to watch his progress. Don't expect any quick miracles. Remember it took Valuev around ten years to make his breakthrough. With Alex it will depend a lot on his ability to learn new skills as he gains more experience. The next few years should be very interesting for Alex Ustinov and heavyweight boxing fans.