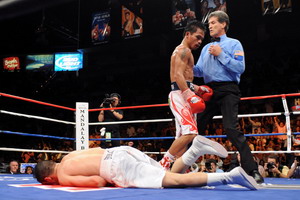 30.06.08 – By Anthony Coleman, photo by Naoki Fukuda: Last night the Pac-Man arrived to another unforeseen land in an attempt to continue his reign of dominance. Brave David Diaz, one of the champions of the land, was given the job to defend the territory against this wandering warrior…and got the high holy shit beat out of him. Thus the Pac-Man claimed another victory and ascended to another level in staking his claim as the best fighter in the known universe.
Yes, I know this opener sounds like a plot from a Dragonball Z storyline, but that is my perfect analogy for Manny Pacquiao because if there is ever a boxing equivalent of Son Goku he is it. He is a powerful and dominant fighter who continues to ascend to another level with every move to a higher division and dangerous foe by adding new arsenals to his skills.. Last night he ascended to true Super Saiyan form with his absolute dominant victory over WBC Lightweight champion David Diaz. In short, this was his magnum opus: the absolute finest performance of his career.
Going into the bout while Manny was considered the universal favorite there were still doubts in how effective he would be at Lightweight. Nobody thought he was going to lose, but most of us thought that it would still be a difficult fight. While Diaz is limited in both technique and athleticism, he was still a tough, strong guy who continually comes forward and possesses a good chin. Plus many, especially this writer, didn't know how Pacquiao, who won his first world title at Flyweight, would be able to handle the move all the way up to Lightweight. Will his power be affected? Could he carry the weight and still maintain his athletic ability? All the reason why many thought it would be a hard fight. But from the opening bell it was a blood letting.
I'll spare you the round by round because the fight was pretty much the same from the opening bell to the conclusion. Pacquiao dominated the fight from the outside with his footwork, awesome handspeed, and much improved technical skills. No longer was he the full court press, go for broke, leave himself open for counters T-800 from four years ago. Gone are the days when he relied solely on a weak jab, followed by overloading on his left hand and throwing himself off balance. He has now turned into a patient, cool calculating destroyer who maintains his punching position and fights behind a hard jab, while moving deftly around the ring and dropping hard three to five punch combinations. And last night he was really letting them rip.
Jumping in with lead right hooks, followed by a right uppercut. Double right hooks followed by a left cross. Right Jab followed by a left cross and right hook. He was just tattooing Diaz and by the fourth round Diaz's face was already a bloody mess. By the fourth Diaz was getting rocked by Pacquiao's punches, and all the while Diaz could barely touch the challenger whose defense was almost as superb as his offense.
So dominant was his performance that at least two of those rounds were clear 10-8s without even a knockdown (rounds 4 and 5). In fact the fight should have been stopped after the sixth round because Diaz had no chance of landing flush, no chance of pulling off a major boxing miracle. He was done for.
Yet give Diaz credit. He wouldn't quit (which was also a bad thing in my opinion seeing that he was getting hammered) and he made it to the ninth round. But Pacquiao did what the referee and the former champion's corner should have done sometime earlier: ended the fight. Pacquiao landed a massive left cross at center ring and Diaz ate it flush and fell face down and Vic Drakulich did the right thing and waved the fight off and Pacquiao was now the new WBC Lightweight champion of the world.
From top to bottom this was Pacquiao at his apex. He was more impressive now than he was in his Featherweight title winning effort against Marco Antonio Barrera. Though Diaz is nowhere near the boxer of the Mexican legend, Pacquiao has improved to the point in which he can finally be called a great boxer-puncher instead of purely a puncher. While his power may not be as strong as it was in lower weight divisions he still had enough to knock Diaz out cold and he could do it to anybody else in the division, especially if continues to land devastating combinations like he showed last night.
Right now the man is going to be near impossible to top as the Fighter of the Year in any publication and he is now, unquestionably the best fighter in the world Pound for Pound. In fact as it stands he will be considered the Fighter of the Decade when the clock strikes January 1st 2010. And think about this? What if he were to defeat the winner of Marquez-Casamayor or unify all of the belts against Nate Campbell? We then will have to stop asking where he stands among the very best fighters of his generation and then start questioning where he ranks among history's all-time greats.
Hopefully Pacquiao is basking in the glow of his finest hour. He silenced all of the critics who thought that he would lose a step in winning his fifth world title in as many weight classes and put together an all time great performance against a much bigger and stronger top five Lightweight. Whenever he walks into the bright lights of the squared circle in his next fights the opponent should know that he will be facing the best fighter in the world today.