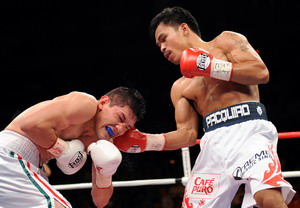 29.06.08 – By Vivek Wallace, photo by Naoki Fukuda: If playing pool until midnight and being a constant spectacle among skeptics results in the destruction fight fans saw Saturday night at the hands of Manny Pacquiao, a lot of other fighters had better chalk a stick and pull out the cue ball because there's a new training regimen about to take effect in the world of Boxing.
Coming into the fight, many wondered whether Manny Pacquiao would be able to sustain his greatness and carry his power with him as he traveled north to the Lightweight division and that question was answered in a mighty way as he showed great strength and power, knocking the very durable David Diaz out in 9 rounds.
This is a true testament to Manny Pacquiao, as never before has a fighter been known to carry his power up from such a small weight class (light flyweight – 106 lbs) to lightweight (130 lbs), and still remain this effective from a KO standpoint..
When considering accomplishments, it's hard to overlook the Champion tenure of Joe Calzaghe, and the fact that he has remained undefeated after so many years in the sport, but based on excitement, heart, and a skillset that has vastly improved, it's impossible not to consider Pacquiao the new heir apparent to the sports mythical Pound for Pound title. Every component fight fans look for in a fighter is embodied somewhere within that 135 lb frame that entered the ring by way of the Philippines Saturday night.
Trainer Freddie Roach said that there would be a concerted effort given to make sure that Pacquiao elevated his speed level to keep a potential shortage of power at the higher division nullified. Not only was the great speed present, but for a fighter who was once a predictable but talented force, it seems the Pacquiao camp has clearly opened the playbook and began exercising skills at a very advanced level. There was alot of movement, alot of traps, and a lot of simple execution that resulted in fireworks in the end.
As 'game' as Diaz was, the skeptical view about this fight was very clear. Despite the great work performed, those who see things in an unbiased manner know full well that Pacquiao fought a guy who would make Carlos Baldomir look like Roy Jones Jr. It's unclear whether Diaz was being overly methodical and thinking too much, or if his needle simply failed to reach that optimal level on this night, but his 'slow-as-molasses' rendition was hardly the best that the lightweight division has to offer.
Heavy conversation is expected to commence as early as Monday when dialogue will convene regarding a possible showdown with Ricky Hatton. Many – (myself included) – would like to see Pacquiao face other great lightweights, namely Nate Campbell. Such a fight would truly show Pacquiao's worth against a member of the division who's size, speed, and skills are actually comparable, but listening to Arum and Roach, it seems that chance may not be possible.
Aside from Ricky Hatton, considering that Pacquiao is comfortable in his heavier armor, one can't help but wonder if he does go on to successfully defend against 140 lb'er Hatton, could the future hold a battle for "Pound for Pound" supremacy, enticing Mayweather to lace them up again at some point in the future which would work well for his desired "year or two from the sport". Lets be real fight fans, it isn't exactly unlike him to consider a mega fight with a smaller guy. To his credit, he went up to 150 lbs to face a legendary bigger one too, but this could be a fight in the future that would be too easy to make to leave off the negotiation table.
Although that seems a very improbable proposition, we learn everyday and saw once again on the undercard of the Pacquiao/Diaz fight, anythings possible in this sport.
Talk is cheap but when the feet hit the pavement and dialogue breaks open with 10-figure potentials, in the end, more money could very well mean more 'Money'. Stay tuned.
(Got Questions or Feedback? Write ESB's Vivek Wallace at vivexemail@yahoo.com or show some love at www.myspace.com/anonymouslyinvolved)