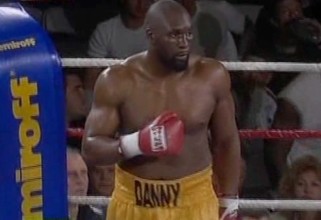 By James Slater: British heavyweight Danny Williams is a quite amazing fighter. Talented, gifted, physically intimidating and capable of going to hell and back in an attempt to achieve victory, the 34-year-old can hang with the best when he's on form and in the mood. But that's the point – WHEN he's in the mood. In the past, Danny's heart and commitment to boxing has been questioned, and rightly so.
On the one hand, Williams is content to enter the ring at a quite obscene weight of 288 pounds and put forth a seriously lazy effort on the way to a points loss to Matt Skelton. Yet on the other hand, Danny is able to withstand the ferocious bombs of a still dangerous Mike Tyson to come on a couple of rounds later and score a smashing victory. Really, you never know which Danny Williams is going to show up.
How can Williams get stopped by Sinan Samil Sam in one fight, yet take Tyson's bombs and still win in another? Even in some of his defeats Williams has show astonishing courage. The shellacking he took from Vitali Klitschko in their world title fight back in 2004 was something to behold. On that occasion Danny took his lumps, and plenty of them, yet refused to give up trying. There is no doubt, when he's on form Danny is one of the most courageous heavyweights out there. Want more proof? How about the famous 2000 fight Danny had with fellow Brit Mark Potter. In this fight Danny suffered the agonising pain that is a dislocated right shoulder, only to battle on and sensationally stop Potter with his good arm in round six! Now that's courage.
And again, last night in Spain, "The Brixton Bomber" showed incredible guts and will to win. Going down three times in the fight, Danny got up to hand Germany's big-hitting Konstantin Airich his first pro defeat. – stopping him in the 7th round. Was this really the same man who caved in in three rounds against Audley Harrison 18 months ago?
Whatever Danny's shortcomings are, the majority of them must be of the psychological nature. Is Danny scared of getting hurt? No. Is he choosy about who he fights? No. Danny, as he's proven in the past, is willing to get it on with the biggest and the best. Is Danny a guy who can't take it when his opponent turns it on? Again, no. So what is the 34-year-old's problem? Why is it he can look like a future heavyweight champion in one fight, and then lose almost pitifully in another?
It seems Danny Williams is a fighter who simply has good days and quite appallingly bad ones – both in training camp as well as in the ring. Unable to tune himself in for intense battle each and every time out, Danny can only perform at his best if he's free from whatever demons clearly turn up to haunt him from time to time. When he's got everything together, and is free of these demons, the big Brit is a helluva fighter.
Danny is on something of a roll again now. Emerging without a loss in each of his last four fights following the Harrison TKO defeat, Williams is once again proving his worth as a fighter. Yet here's the thing: set to meet the U.K's John McDermott next – in a fight he should definitely win – Danny is more than capable of once again reverting to his frustrating best and losing. Quite simply, though this should not happen, Danny is that kind of fighter.
As the above headline reads, Danny is courage personified – when he's in the mood!