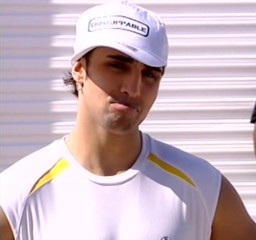 By John Carter: Reports from the UK suggest that Ricky Hitman Hatton and Paulie "magic man" Malignaggi is a done deal in the November of 2008. No venue has yet been decided but the IBO, IBF and Ring Belts will be at stake. Hatton has concerns that any indoor venue in the states cannot accommodate his army of supporters and doesn't want to let them down.
""If we go to fight in Las Vegas again and they want to give me 4,000 tickets I won't put up with it," he said.
"There's nothing to say I have to fight at this place or that place."
A fight in the November would probably rule out an outdoor venue such as the 60,000-capacity Yankee Stadium due to the cold, while no doubt Madison Square Garden's 20,000 capacity would be likely to sell out within hours.
Malignaggi's hand injury sustained in his unconvincing win over N'dou is unlikely to put the November date in jeopardy. According the Hatton Snr both fighters will have approximately 8 weeks off and the injury will have healed sufficient enough to begin light sparring.
Hatton Snr has also revealed that following Ricky's win over Lazcano he received a call from Floyd Mayweather's handlers to congratulate them on a great win over a very tricky opponent.
Hatton / Malignaggi is indeed a big deal in the world of boxing. Both fighters have a big following with Hatton perhaps the biggest draw in boxing today, 55,000 paying gate customers says so.
Paulie has proved he is both a silky smooth, fast boxer who also has a great chin. Some of those punches landed by N'dou would have put away most other 140lb fighters but not Paulie. He has proved his heart and character in the 12 round brutal loss to Miguel Cotto back in 2006 and the Hitman come November will aim to show that he is no-longer a spent force.
Hatton / Malignaggi set for November? Will you be watching?