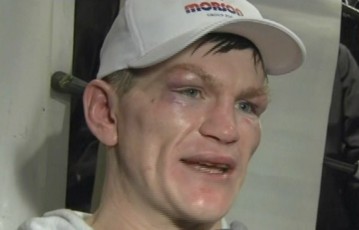 By Taj Eubanks – One thing can be said without the slightest hint of controversy: a Ricky Hatton fight is not just a fight, it is an event. Hatton is, along with Oscar de la Hoya and Joe Calzaghe, one of the very few true stars in boxing, whose presence can fill an entire stadium regardless of the opponent. Such was the case last night when 55,000 Mancunians greeting their hometown hero with deafening cheers of adulation in his much-anticipated comeback fight.
The fact that his proposed autumn dance partner, the ever-loquacious Paulie "The Magic Man" Malinaggi, was featured on the undercard was the proverbial cherry on top. A lustrous showing was needed to counter the painful memory of Hatton crashing to the canvas, courtesy of a Money Mayweather check-hook. And Hatton did not disappoint.
Hatton performed as expected, and despite being hurt in the tenth, delivered the dominating performance that fans expected. Better than ever, some would say. With the Mayweather brass ring looming in the distance, Hatton's return to form marked the first step in his march back to credibility.
Malinaggi's showing before the main event was not as convincing. To be fair, Malinaggi reportedly suffered a broken right hand in the sixth, yet fought on courageously and still won by convincing margins on two judges' cards. Also, it is also extremely difficult to follow-up a dominating performance (see N'Dou-Malinaggi I) with a carbon-copy effort. That said, Malinaggi's performance in the first five rounds was pedantic. Such an effort doesn't bode well for the Brooklynite, as he was shown to be repeatedly vulnerable to N'Dou's headshots despite his superior speed. Malinaggi also showed that he can be made to fight the other man's fight, a fact that must certainly have Team Hatton licking it's chops.
Part of the joy of boxing is that while watching a match one not only learns about how a fighter performs against his current foe, but also how he might perform in future fights. What did we learn of Hatton? He still possesses maddening pressure and stamina, he is still vulnerable defensively (see round 10), and he is still one of the most exciting pugs in the game. Does that mean he can beat Mayweather? Highly unlikely. Can he beat Malinaggi? Definitely. Hatton is superior to N'Dou in every way and he is stronger, a fact that doesn't bode well for the Magic Man.
Can Malinaggi beat Hatton? While anything is possible, a Malinaggi victory is unlikely for three reasons. First, Malinaggi doesn't have the firepower to earn Hatton's respect. Most telling is that Mayweather, clearly larger and more powerful than Hatton, could not keep Hatton at bay until the end of their bout. Second, Malinaggi is prone to abandoning his plan to box his opponent, allowing himself to be lured into a contest of machismo. Box, box, box should be his mantra all night with every opponent. If only he would stick to it. Third, Malinaggi's hands may not hold up, as he will certainly have to unleash them more than he ever has against Hatton, who doesn't know the meaning of backwards.
Entertaining though they were, last night's fights, if anything, revealed more about what the fighters couldn't do more than what they can do. Here's to hoping that I'm wrong.