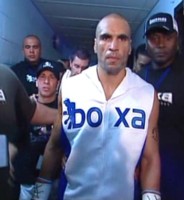 25-05-08 – By Srithar Visuasam: This Wednesday night, 28th May 2008, WBA Super Middleweight Champion Anthony 'The Man' Mundine will defend his world title against former world title challenger Sam 'King' Soliman at the Vodafone Arena in Melbourne, Australia.
This will be the third time the two boxers meet. Mundine has triumphed on both occasions, winning their first bout in 2001 by close split decision and their second bout, which was for the vacant WBA super middleweight title last year by 9th round knockout.
This evening, Mundine was training at the Melbourne Aboriginal Youth Sport and Recreation Centre in readiness for his bout with Soliman. The session, which went for close to 90 minutes, consisted of shadow boxing, pad work with trainer and father Tony Mundine followed by skipping and core strengthening exercises..
After his session, Anthony took out a few minutes to speak to Eastside about his bout with Sam Soliman and what lies ahead beyond this Wednesday's fight:
Eastside Boxing: So how is your training going up to the fight?
Anthony Mundine: Yeah, going good man, just starting to taper down now. I pushed it pretty hard today cause I had nearly two days rest and my body was feeling a bit flat so I needed to pick it up a bit. I'll train twice tomorrow to get ready (for the fight). Have a rest on Tuesday to get ready for the weigh-in. Once I weigh in, I'll hydrate right back up and be ready for Wednesday night.
ESB: Do you have an idea of what sort of weight you'll come in at weigh-in (super middleweight limit 76.2kgs / 168lbs)?
AM: I wanna come in between 75 (165lbs) and 76 kgs (167.2lbs). I wanna come in between there, I fight good. I wouldn't mind if I came in at 75.
ESB: When you fought Nader Hamdan you fought around 75kgs….
AM: Yeah, around 75.2 I think. So around there, maybe a little bit more a little bit less.
ESB: You're now fighting Sam for the third time, have you changed your approach in regards to training for the fight?
AM: Nah, I've trained hard, I've trained ready. The first time I fought him I was undeveloped, a kid, inexperienced….I got tired early in the fight. I don't get tired no more. I'm experienced. He's banking on me getting tired. I'm super cagey now, and I'll be working hard and not letting him get a breather…and I wanna show and prove that I'm the best.
ESB: You beat him comfortably last time. Do you believe he's going to come out with a new tactic?
AM: Oh definitely, he has to, he has to. He can't come up with the same tactic, the same thing will happen. I'm expecting him to maybe box a little bit more, stay on the outside a little bit more. And try and stay on the inside a little bit more. So mix and match, on the outside and the inside, on the outside and the inside. And try and dictate the pace, that's what I'm expecting. But whatever he comes with, I'm ready to respond. I have an answer for.
ESB: How's your eye, it's been around 9 months since you injured it. How are you feeling?
AM: It's getting better, slowly and slowly. As long as I see laterally, you know, it's all good. So I see things coming, but it's just not as sharp. But it'll get sharper and sharper as the months and the years go on.
ESB: So you just keep going up to the doctor's regularly…
AM: Yeah, regularly. Once a month or once every six weeks I go back for a check in.
ESB: Assuming you beat Sam, who will you be looking to fight next, which weight division? There has been talk about middleweight, what are you thinking?
AM: I'll beat Sam, that's no problem. It's not a no problem but I will beat him. We're looking at going down to middleweight, hopefully a match up with Winky Wright or Kelly Pavlik down there. Obviously I'll have to be dedicated with my dietary (management), apply that properly and I'll have no problems making it but I just got to be very disciplined. And dedicated to that and becoming strong and it becoming easy to make the 72.5kg limit.
ESB: Would you be looking at fighting Felix Sturm since he's the WBA middleweight champion?
AM: That's a possibility. I just want to fight the best but obviously money is a big big part of it, the economics. If it makes money then it makes sense. But I want to fight the best. But if Sturm…if it makes some money, then we'll fight him. But I think the bigger names, Winky Wright, Kelly Pavlik (would be preferred). But I just got to keep on proving myself, keep on destroying the guys they put in front of me, including Sam on Wednesday night.
ESB: It's going to be a big night. You haven't fought in Melbourne for six years, how does it feel to be back in Melbourne?
AM: It feels good. It's been a wait for a long time and this is a big fight, coming back to Sammy's hometown. But I've got fans everywhere so I feel like it's my home as well.
ESB: Are you looking at fighting overseas? There's the big names Kelly Pavlik and Winky Wright in the states and there's (Arthur) Abraham and Sturm in Germany. Would you be looking at getting your next fight in a couple of months as you usually fight every three months and would it be against a big name?
AM: I hope so, I hope we can do that. But it's really hard because the Olympics are coming up, everyone will be focused on that. So I've got to really look at the economic part of it, when will be the best (time) to fight.
ESB: Your Boxa label is a very popular clothing brand. Are you going to sell your apparel online, is that something you have thought about?
AM: Definitely. That's going to be coming out real soon. I know that it's been awhile, but when it does come out I want it to be right. And it will be right. Boxing boots, clothing brands, jackets, jumpers, tracksuits, anything you need Boxa will have.
ESB: Just in closing, is there anything else you would like to say to your fans on boxing247.com?
AM: Eastside boxing, I'm the best. Bring on the best. Kelly Pavlik, Winky Wright, the middleweights, Felix Trinidad. I want to fight the best, I want to be a multiple world champion in various weight divisions. So look out, here I come baby!
Tickets are still available for the world title showdown between Mundine and Soliman at www.ticketek.com.au. Tickets are priced at $50, $100, $175, $200, $350 and $500AUD respectively.