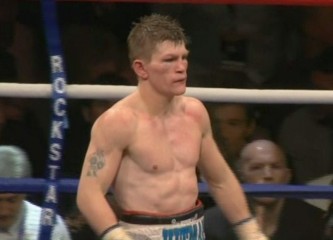 25.05.08 – by James Slater: Manchester's finest, Ricky Hatton won his comeback fight last night, out-pointing the gutsy Juan Lazcano. But "The Hitman" had a couple of dodgy spells during the distance fight, and admitted afterwards that he was not altogether happy with his performance. Speaking with Sky Sports post-fight, the 29-year-old admitted he has never been so nervous before a fight before.
"I have to admit I've never been more nervous before a fight in my whole life," Hatton said. "I felt great in the gym but it's different once you get in there. The fans pulled me through. All those demons are in your mind, like can you come back as strong. Tonight I've proved it and I think I'll be better now I've got the first one out of the way."
Overall then, Hatton can smile about last night's very first comeback fight. Coming back for the first time after suffering your very first loss can be a hard thing for any fighter. And though Hatton was perhaps hit more than he'd have liked/thought he would be going in, he got himself that all important W..
Hatton also gave complimentary remarks about the man he defeated in Juan Lazcano.
"Out of 43 fights I think he has only lost four," Ricky said. "He was a fantastic challenger. I knew it was going to be like that – when you fight someone like Juan Lazcano, who doesn't take a backward step. It's not like me to jab and move really. I know I keep saying I should do. There was about three or four times where I thought I had him hurt and out of there. I think if I wanted to box my way to a points victory I could have come through a lot more comfortably. But the minute I had him hurt with a few punches I tried to put my foot on the gas and sometimes landed myself in a bit of trouble."
Hatton, who was stunned in rounds eight and ten, will now be hopeful a big fight with current IBF light-welterweight champion Paulie Malignaggi will be a somewhat easier fight. If "The Magic Man," who struggled far more than Hatton last night, in winning a spilt decision over Lovemore N'dou, proves as hittable as he did, Ricky will likely get back his old title later this year.