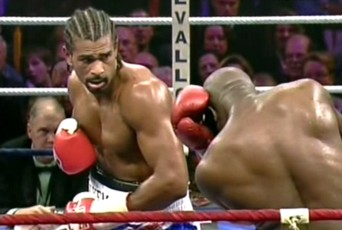 30.04.08 – By Andrew Walker: David Haye has transformed himself from being a little known British cruiserweight to the undisputed cruiserweight champion and now challenger to the heavyweight crowns in less than twelve months. After dismantling former WBO cruiserweight champion Enzo Maccarinelli inside two rounds in March, Haye declared war on the "bums" in the heavyweight division calling out Wladimir Klitschko (who many regard as the real champion) claming his recent fight with Sultan Ibragimov was a disgrace to boxing.
Haye even pounced on the WBO/IBF/IBO champion in London recently and tried to goad the champ into agreeing to fight him next with a verbal assault that would have made Ali himself proud..
As always Wladimir was cool and calm and told Haye he would have to earn his shot like everyone else. Wladimir has two planned defences already for this year against Tony Thompson and Alexander Povetkin so it is unlikely he will fight Haye until early in 2009. Haye and his trainer Adam Booth recently suggested that he will next fight towards the end of the year at heavyweight and they plan to make it against a big name opponent. Former champions Hasim Rahman, Oliver McCall and Shannon Briggs have all been mentioned as prospective "victims" for the "Haymaker" and with Briggs keen to come to London to fight before he ends his own career, this could mark him out as the favourite opponent for now. A win for Haye over any of these fighters would certainly get him ranked, especially if he can finish them quickly with a destructive KO, which is after all what we all want from a heavyweight fight is it not?
What the division is missing right now is a character who will install some excitement back into the heavyweights. Wladmir is a very good boxer and a worthy champion, but his "cautious" style does not make for excitement in the ring. And although this is boxing and not a body building contest the recent trend for 250 pound plus heavies has left the class looking like a weight watchers session. WBC title holder Samuel Peter is a prime example, and he just does not look like my idea of a heavyweight champion of the world.
David Haye does fit the template though and has the style and charisma (if you don't believe me just ask him, he will tell you) to make the "glamour" division popular once more amongst the casual fans. The only problem though is that Haye has a suspect chin. He is no stranger to being knocked down in the ring by smaller men then Wladmir and co and with his exciting (careless?) style you would have to think that sooner or later his chin will be put to the test. Mind you he has never been KO 'd cold so perhaps he could survive a flash knockdown or two? He certainly has very fast, powerful hands of his own and could well have enough dynamite in each punch to carry on in the heavyweights where he left off in the cruiserweights, KO'ing champions at will.
Either way I'm looking forward to him getting back into the ring to see if he can hang with the "big" men. I think he can do it. If not then Odlanier Solis is coming along nicely also and should be ready to challenge in the next year or two.