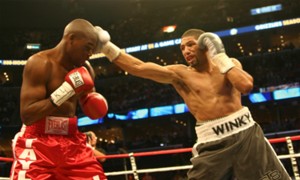 31.03.08 – By Cesar Pancorvo: Anarchy has intensified in the 154 division. And no, Winky Wright will not return to that division. His last fight at 154, in 2004, was against Shane Mosley and was the only defense of his undisputed championship. But the Light Middleweight division continues in crisis and urgently needs someone like Wright.
Last Friday was a useful date to confirm that the Light Middleweight division problems continue and have increased with the loss of their #1 contender, Cory Spinks, in his last fight against Verno Phillips, who was still a contender but considered a weak past-his-prime boxer..
Phillips' last important challenge had been Ike Quartey in 2005 (and before that he had lost against Kassim Ouma, who was shining in the 154 division during that time) and then had insignificant fights against weak opposition; now he has beaten –well, I must say that the decision was criticized by many– Spinks and arguably deserves his place as the top Light Middleweight of the world.
The scene of this division has changed, but the standard has been weakness since 2005. Winky Wright vacated the lineal, Ring and unified championship to campaign in the Middleweight division and then go up to 170. Since then the title has been vacant. The first post-Wright leader, in 2005, was Kassim Ouma, the Ugandan boxer of furious work rate and torrid past, who was defeated by Roman Karmazin; in his next fight, Karmazin lost against Spinks, who then defended his IBF belt against Rodney Jones, went up to 160 to give Jermain Taylor a difficult fight and then, almost one year later, returned to 154 with his position as top contender intact and lost against Phillips.
Light Middleweight is currently one of the worst divisions, maybe the worst. Which fighters are the elite in this weight class? Spinks performed well and deserves to stay in the Top5. Verno Phillips deserves to rank above him –doesn't matter if you think his win was clear or unclear, correct or not– in the Top3. Alex Bunema, who defeated Roman Karmazin in January, deserves to be ranked high because of that victory, as does Sergei Dzinziruk, a fighter that won his ranking by beating Daniel Santos in 2005 and has been a protected boxer ever since.
Oscar de la Hoya, who looked formidable in his fight against Mayorga (that fight was two years ago though) and in very good shape against Floyd Mayweather last year, also deserves a place in the top of that division. Joachin Alcine's resume is fragile and weak, but he deserves a mention. And, in my opinion, the number one contender in this division, after the Spinks' debacle, is Vernon Forrest: he currently has the best record at 154. Only problem is that he's 37 years old. All this fighters should start fighting each other, that is the only way we are going to have a new Champion.
Right now, every fighter is walking in a different direction –De la Hoya fighting big names, Dzinziruk defending his belt in Germany, Forrest accepting the challenge of fringe contenders– and there are no signs of a future unification or fight between top contenders. In three more years, the Light Middleweight title could still be vacant.