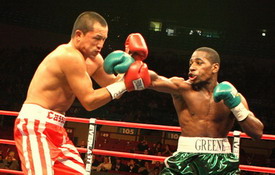 26.02.08 – By Wray Edwards: Photos (c) Wray Edwards/ESB at the apron Madison Square Garden. Besides the Co-Main Event featuring Duddy and Smichet, there were five prelims, one of which was a twelve rounder between Joe Green (17-0, 13KO's, 157.25 Lbs.) from Queens, New York and Francisco A. Mora (52-12, 36 KO's, 159.25 Lbs.) from Cordoba, Argentina for the NABO & NABA Middleweight Championships.
Geoff Ciani's comprehensive report and evaluation of these fights (see below) leaves little to add…so here with brief remarks is a photo presentation of the highlite moments in these contests.: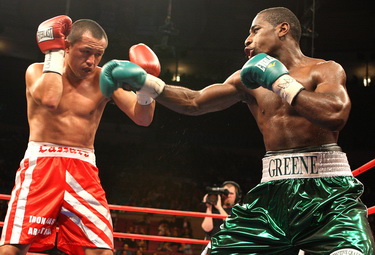 Green's Boxing skills are well developed and gave his opponent little room for points.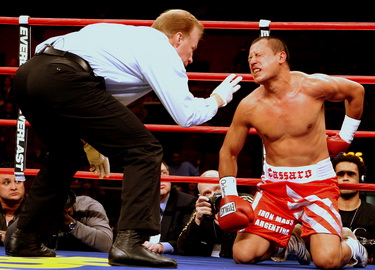 In fact Mora spent quite a bit of time on the canvass due to Green's dominance.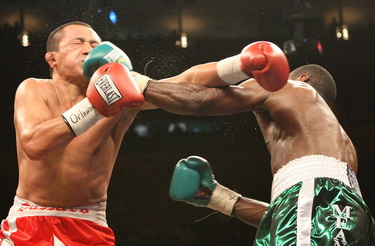 Green was effective with both hands.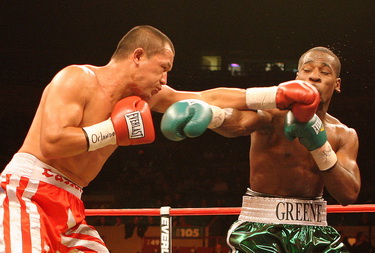 Francisco did his best to head hunt Green whose guards and head movement made shots like this in frequent.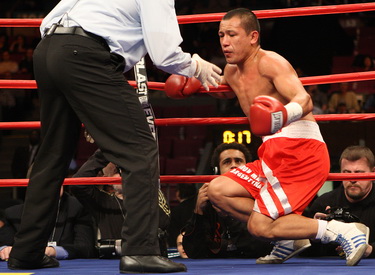 Mora made several trips to the canvass, but kept getting up.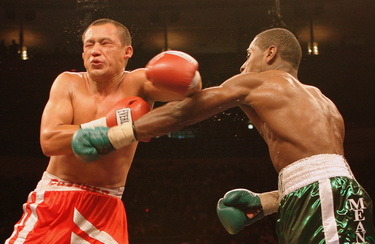 The trouble with that was more of this was waiting for him.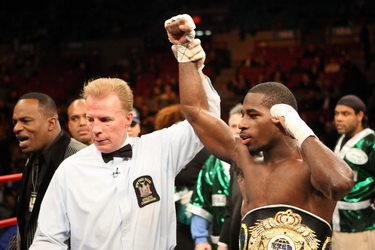 During the Eleventh Round, Mora developed a serious hematoma (sp? blood flooding under the skin) behind his right ear and the doctor stopped the fight. I have seen this lead to an ear being ripped half-off, and agreed with the stoppage.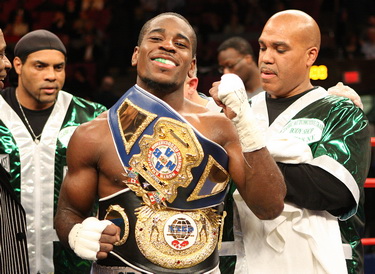 Joe was stoked by the win and he deserved the victory. Note Green's trainer John David Jackson back left.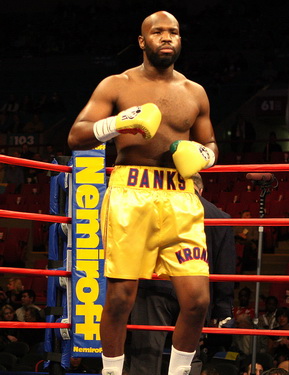 Before that fight a scheduled ten round Cruiserweight fight was short and sweet.
Cruiserweight Johnathan Banks (18-0, 13 KO's, 200 Lbs.) from Detroit, Mich. steps out to fight Imamu Mayfield (25-8-2, 18 KO's, 197.5 Lbs.) from Perth Amboy, NJ for ten rounds.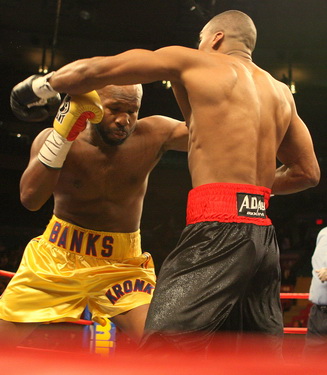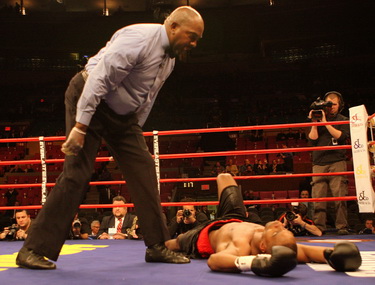 Johnathan wasted no time and sent Imamu to the canvass for a KO (listed TKO) at 1:49 of Round One.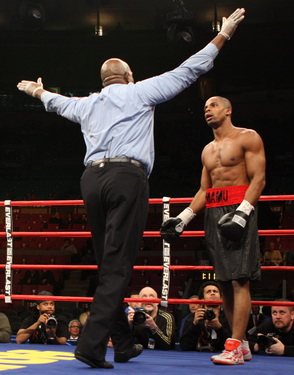 Mayfield tried to look ready but the ref didn't buy it. The call may have been a bit previous. Mayfield was pissed and uttered a curse word loud enough to reach the nosebleed seats.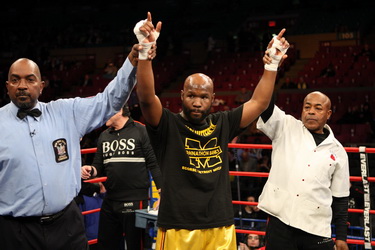 Banks arm is raised in victory.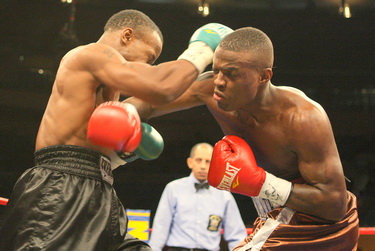 The Third fight of the night was a 6/8 Round Super Middleweight contest featuring Peter "Chocolate" Quillin (15-0, 12 KO's, 161 Lbs.) fromNew York, NY and Thomas Brown ( 11-2-1, 7 KO's, 156.5 Lbs.) from York, S.C. Peter didn't waste any time and delivered a huge liver shot…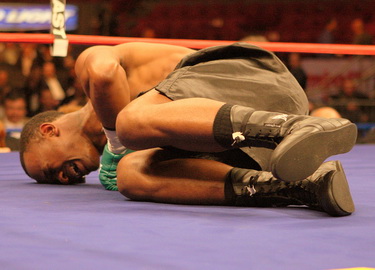 which left Brown doubled up on the floor.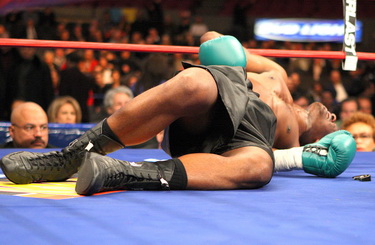 No position stops the pain of a liver shot.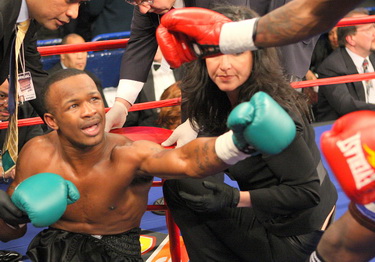 Finally, sitting up, Brown reaches out to Quillin as Peter comes over to check on him.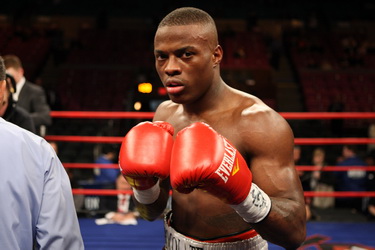 Quillin makes his victory pose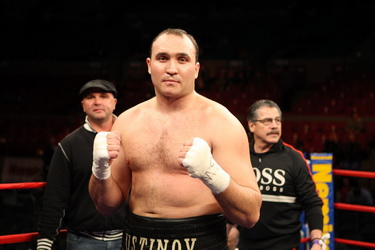 The second fight of the evening featured 300 Lb. Alexander Ustinov from Minsk, Belarus who…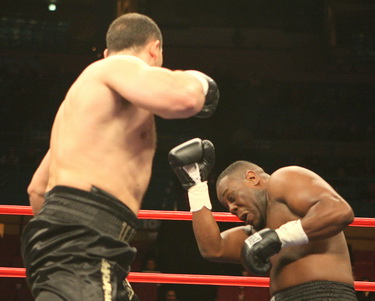 Bombed Earl Ladson from Winston-Salem, N.C. right to the canvass for a TKO at 1:59 of Round One…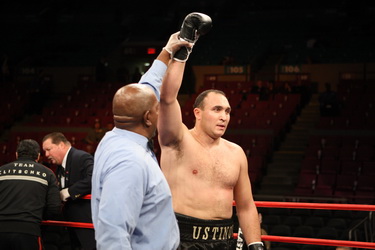 so the ref raises Sasha's arm in victory. It was a size and weight mismatch (a harbinger of things to come at the end of the evening.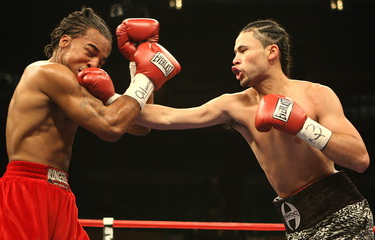 The first fight of the evening was a four round contest between Jr. Middleweight Ronnie Vargas from New York and Monyette Flowers (red trunks)
from Memphis, Tenn. Vargas did a lot of this and…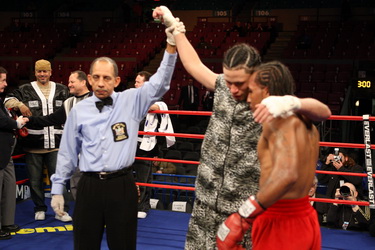 Vargas gets arm raised in comradship with Flowers.
At the weigh-in, I thought Vargas looked pale & wimpy in his blue plaid boxers. Boy was I wrong. He is a very good fighter with effective combinations, excellent footwork and fine defense.
It was an OK under card. See you at the fights.