Photos: JORGE GARCIA – Israel Vazquez and Rafael Marquez participated in a public open media workout Monday as they continue to wind down preparations for their highly anticipated rubber match, "Final Confrontation" for the WBC/The Ring Magazine super bantamweight title this Saturday, March 1, at The Home Depot Center in Carson, Calif..
Vazquez-Marquez I and II produced the most exciting, bloody, give-and-take slugfests of 2007, with the second bout winning Fight of the Year and Round of the Year honors. Now the Mexican warriors face each other in the final battle for honor, pride and 122-pound supremacy on SHOWTIME CHAMPIONSHIP BOXING (9 p.m. ET/PT delayed on the west coast). The showdown is promoted by Gary Shaw Productions, LLC, in association with Sycuan Ringside Promotions, Golden Boy Promotions and Romanza Boxing Productions.
Tickets, priced at $300, $150, $75, $50 and $25, may be purchased at The Home Depot Center Box Office, open 10 a.m.-6 p.m. Monday through Friday, at all Ticketmaster retail ticket locations, as well as www.Ticketmaster.com and Ticketmaster-Charge-by-Phone, by calling 213-480-3232.
Doors open at 4 o'clock. The first fight is at 4:15. Vazquez-Marquez goes live at 6 p.m. PT.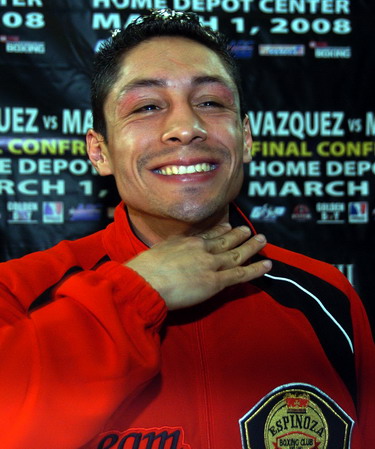 ISRAEL VAZQUEZ
"This is a fight the fans have been waiting for and the press has been waiting for and one I know I have been waiting for. Saturday is going to be a great night for boxing.
"I have faced other great fighters in my career. I have had some rough fights against Jhonny Gonzalez and Oscar Larios, but because of the intensity of the two matches against Marquez and the way our fighting styles are, this is an all time classic.
"It is very exciting for me to think of this trilogy and to think that a victory will carry me to the next level as a fighter.
"Marquez is going to have to fight me, but I will push him around. I will put pressure on him to get him off his rhythm, to make him change his strategy.
"If he wants to beat me he has to fight me blow-by-blow. No other way around it. But I will not give him that opportunity.
"If I had revenge on my mind the second time around, you can bet that now I want to make sure that everybody knows that I am the best of the two.
"Honestly, I never expected to lose to Marquez (in the first fight). No disrespect to him, but the idea never crossed my mind. I never imagined he could beat me.
"I remember that early on he caught me with a right hand shot that made it impossible for me to breathe through my nose. As the rounds progressed, I felt like I was boxing inside a swimming pool, without any air coming in.
"I sat on my stool and thought about continuing but I realized that this is a sport and that I could have a better day some other time.
"Some of my fans understood my decision; others did not. Some media members said I was a quitter and that I could have continued. I wanted to prove to all of those who doubted me that I was more than capable to beat Marquez.
"(But) I did not put any pressure on myself to beat him the second time around. The only feeling I had was the need for revenge.
"I really wanted to show the world I was stronger and better than Marquez; that my strategy and conditioning would be too much for over him. I was so excited when the referee stopped the fight and I won. I was screaming like crazy because everything worked out that night.
"(Trainer) Rudy Perez became a part of my team before the second fight against Marquez and we only had a few weeks to know each other and work together.
"But now we have adjusted and jelled very well. He is a great tactician and I am learning a lot of different things from him that have helped me.
"His strategy for Saturday will be a very good one. But it will be up to me to carry it out.''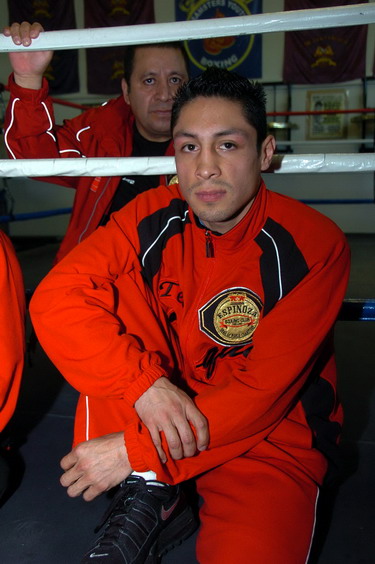 RAFAEL MARQUEZ
"I am at my best ever and feel really great. I am coming off an excellent training camp. I am really anxious for Saturday to get here and ready to give a better performance than I did in my last fight against Vazquez.
"I feel different for this fight. I know this.is something special that we are doing and because of that I trained even harder.
"I am always confident but since losing I changed things around so I would feel more focused.
"I never make excuses or blame anybody for what happens to me in the ring. But I lost focus during the last fight. I know I did not underestimate Vazquez.
"But I made mistakes I don't usually make. I never leave myself open with my hands down the way I did in our rematch. I had to review the tape to realize the mistakes I made. I didn't do what I had to do in the ring. It was many things.
"Of course, it was a tough loss. Nobody wants to lose, especially in a world title fight. But I have moved past that fight and am ready to do it one more time.
"One thing's for sure: If either of us makes a mistake on Saturday, it will be very costly and the other will make him pay for it.
"I know the last time that I had him hurt in the second and third rounds. (But) when I saw that he was hurt, I got anxious for the win. I became careless.
"Still, I was very surprised that the referee let the fight keep going when he was hurt. I knew Israel was hurt and I kept throwing punches, but the referee didn't do anything about it.
"When the referee finally did stop the fight, I thought he was stopping it to save Vazquez from more punches. I didn't think he was stopping it for me.
"The referee's decision to stop the fight when he did bothered me. I was still throwing punches.
"(But) I did learn something from the loss. I learned that for this fight, I need to box intelligently in order to win.
"This fight definitely has the possibility of being better than the last two.''