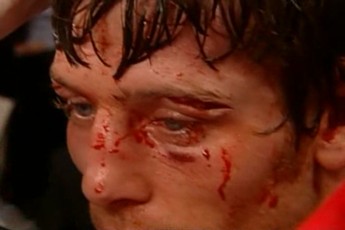 By Adrian Jacob: Undefeated middleweight John Duddy (24-0, 17 KOs) struggled badly in winning a bloody 10-round majority decision over Walid Smichet (17-4-3, 13 KOs) on the undercard of Klitschko vs. Ibragimov on Saturday night at Madison Square Garden in New York. Duddy, 28, was supposed to have been showing off his skills in what many thought would be an easy victory for Duddy, as he moved forward for a world title shot against WBC/WBO middleweight champion Kelly Pavlik.
Duddy, however, was cut badly over his left eye in the 3rd round in the process of taking horrendous punishment from Smichet, and had to fight tooth and nail to get the victory. Along the way, Duddy, looking nothing like a top 10 fighter, showed almost zero defense as he was repeatedly nailed with huge shots from Smichet. Indeed, Duddy looked more like a club fighter than a #3 ranked middleweight (WBC & WBO), while absorbing big combinations from Smichet in the first several rounds of the fight. Duddy, however, kept up his attack, and when Smichet tired out by midpoint in the fight, it was relatively smooth sailing for the remaining five rounds of the fight. The final judges' scores were 95-95, 98-92 and 98-92.
In rounds one through three, it was hard to tell that Duddy was the ranked fighter, because Smichet was blasting him with heavy shots to the head. So bad was Duddy's defense, Smichet seemed unable to miss with any of his hard shots as he landed some terrific punches. Duddy, however, took the shots well, and when Smichet began to tire around the third round, Duddy was able to take control of the fight for the remainder of the bout. Keeping a steady jab and a working hard to the body, Duddy kept Smichet under a continuous fire which seemed to drain the energy from the Tunisian fighter at fast pace. Duddy was cut badly over his left eye in the third round after taking several really nasty shots from Smichet.
I wasn't surprised by the cut, because Duddy was just getting hit flush repeatedly by the heavy-handed Smichet and it seemed only a matter of time before Duddy was cut. Duddy seemed to fight carelessly, as if he was trying to look impressive by slugging with Smichet. This was the exact opposite of how Duddy fought in his last fight against Howard Eastman.
Perhaps Duddy was more focused on looking good than in respecting Smichet, a hard puncher, and ended up paying for it by almost losing the fight. If that was indeed the case, Duddy needs to reconsider his strategy against future opponents, because he simply doesn't appear to have the talent to take fighters likely, even B-level fighters like Smichet.
In the fourth round, Duddy began to really outwork Smichet, who looked already exhausted by this point as if he'd fought a full 10 round bout. It was a good thing for Duddy, because if Smichet had continued at his torrid pace of the first three rounds, I have no doubts that he would have easily knocked Duddy out in the next two rounds of the fight. Duddy, though, was still getting clocked with big right hands from Smichet, taking the shots squarely in the face. A second cut opened up, this one over Duddy's right eye. His nose also began to swell up from the repeated blows, and he looked like a bloody mess despite the early rounds of the fight.
Duddy came on strong in rounds five and six, as Smichet was throwing almost next to nothing back at him by this point. It's as if the water was turned off, because Smichet could barely let his hands go at all. Duddy landed well to the body, hitting Smichet with some excellent hooks. Though his faced looked like hamburger, Duddy was still quite fresh and full of energy. He never seemed to let up for an instant with his own shots, as he pounded away at Smichet.
In round seven through ten, it was all Duddy, landing hooks to the head and body. Smichet tried occasionally to land big shots but mostly missed, hitting nothing but air. Duddy was unable to hurt Smichet, but that's not surprising because Duddy isn't a particularly big puncher, despite his many knockouts on his record. Most of the knockouts, and wins, have come against exclusively soft opposition.
Overall, it was a terrible performance by Duddy. Based on this fight, I wouldn't want to see him go up against someone like Pavlik. I suppose the fight would be interesting for a round or two, but not more than that. Duddy, in my view, isn't a 1st tier fighter. I see him as a fighter with an inflated record, someone that is artificially being thrust to the top despite his mediocre talent. I'd much rather see Pavlik fight Felix Trinidad. At least that fight would be interesting for six rounds or so, until Pavlik savagely stops Trinidad.
With Duddy, however, Pavlik would brutally destroy him in two rounds, though it might last a little longer if Pavlik wants to toy with him. Personally, I'd pick Trinidad over Duddy any day of the week. Trinidad, even at 34, still have far more skills than what I've seen of Duddy.