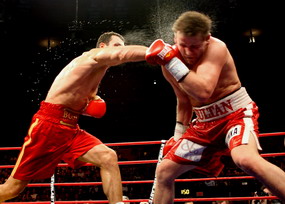 By Mike Indri – Retired Boxers Foundation, photo by Wray Edwards / ESB – Wladimir Klitschko pawed, jabbed and swatted his way to a twelve round unanimous decision win over Sultan Ibragimov in a rare heavyweight unification title fight; which enabled Klitschko to add Ibragimov's World Boxing Organization title belt to his trophy case, along with his own International Boxing Federation championship crown.
Headlining a Madison Square Garden fightcard which featured several quick knockouts by talented local prospects and a ten round "Pier Six" style brawl between popular Irish middleweight John Duddy and Francisco Mora, the Klitschko-Ibragimov heavyweight clash was hoped to be an intriguing, classic battle of two champions willing to put their hard earned titles at risk in their quest to become the one and only true "Heavyweight Champion", instead the huge crowd had to endure twelve rounds of a tentative, strategic effort by the physically bigger and stronger Klitschko against a willing and game champion who had no answer to combat his obvious disadvantages in height (five inches) and weight (close to twenty pounds)..
From the opening bell it was clear that this bout was to be more of a chess match than a fight, as Klitschko came out using as much energy swatting at Ibragimov's range-finding jabs as he did in looking to land his own punches. Unfortunately for Sultan, Wladimir is an expert chess player.
It was not until round five that the 14,011 predominantly Klitschko fans that packed the Garden, along with the millions watching live on HBO, finally witnessed the first sign of Dr. Steelhammer's mighty right hand. The shot temporarily silenced the boo's from the action deprived crowd and had the familiar "Klitschko-Klitschko-Klitschko" chants ringing throughout the rafters of boxing's most hallowed venue.
As round six brought three more minutes of fruitless work by Ibragimov and conservative effort by Klitschko, this championship fight was suddenly half over and if you blinked more than once you surely had missed most of the action.
One thing was for certain, whether it be for lack of a good effort or not, this fight was slipping away from Sultan Ibragimov and you would think that the undefeated fighter would realize that his current approach to this career defining opportunity was definitely not working and maybe it was time to resort to Plan B.
Apparently there was no Plan B for the thirty-two year-old Russian born southpaw, and that ineffectiveness along with the former Olympic silver medallist getting tagged with several more Klitschko right hands in rounds seven, eight and nine put Ibragimov in a dire situation. Those big right hands in round nine actually stunned Ibragimov and sent the hurt fighter sprawling into the ropes were it appeared that the ropes may have been all that was holding the soon-to-be former WBO heavyweight king up; as close to a knockout that this non-epic bout would see.
Against the urging and pleading from his most ardent fans, Klitschko laid back and played it safe. Content to pile up the rounds in listless fashion, Klitschko went back to the jab, albeit a solid one, and neglected the punch that makes him the most dangerous heavyweight today, perhaps the lone heavyweight with pure one-punch knockout power.
Never able to overcome the big physical disparity, and later claiming that his left hand had been broken weeks earlier during training, Ibragimov, now 22-1-1 (17 KO's) was barely able to scrap out one round on two of the judge's scorecards over the last six rounds. Highly respected judge Steve Weisfeld, a Rivervale, NJ native, did not see Ibragimov winning any rounds over the last half of the bout.
With all credit to Wladimir Klitschko, 50-3 (44 KO's), for fighting a determined and controlled match, obviously sticking to a pre-set fight plan, I really don't know who had a more difficult time: Sultan Ibragimov in trying to penetrate Dr. Steelhammer's tight and ever so cautious defense, or the fans who were watching?
Judge Don Ackerman scored it 119-110, while judge Chuck Giampa saw it 117-111 and the aforementioned Weisfeld had it 118-110. This writer also had it 118-110.
All for the unanimous decision winner, Wladimir Klitschko. Afterwards the IBF, and new WBO heavyweight world champion would say, "I am not disappointed in this performance as he (Ibragimov) is a very difficult guy to fight, he kept leaning back."
"I had to be careful to shoot my right hand-not to lose my balance", stated Klitschko. "Anyway, the fight is over and we have the winner of the fight. I am ready to fight as soon as possible. I wish to get another champion to fight."
In the co-feature attraction, popular middleweight Irish John Duddy overcame an early rough beating in his ten round bout against rugged, yet unheralded, Walid Smichet to survive with a controversial majority decision victory. Getting pounded with 47 of 85 power shots (according to the CompuBox punch stats) in round one Duddy, fighting out of New York by way of Derry, Ireland, was forced to battle from the opening bell and came out on the short end of most of the two-fisted volleys throughout the first half of this bar room brawl. Smichet, a Canadian from Montreal who now calls New York home, had Duddy bleeding from both sides of his face; the real danger being an extremely deep and nasty gash of a cut over the left eye. Luckily for the likable slugger, he was in the capable hands of top-notch cutman, Big John Mitchell. Eventually Smichet would tire and his offensive output would greatly diminish, giving Duddy the chance he needed to get back into the fight. Employing a good jab, actually moving away from some punches and working the body of a tiring Smichet would pay off dearly for the Irishman. While the emphasis of boxing over brawling salvaged the night for Duddy, the exposed showing against his rudimentary opponent blew Duddy's real shot; his all but signed June 7th title opportunity against middleweight world champion Kelly Pavlik.
While the severe cut over his left eye may require as much as four months of recuperation, the real question now is his worthiness.
Judge Frank Lombardi called it a 95-95 draw, while both judges John McKaie and Don Trella somehow scored it 98-92 for Duddy, keeping the Irishman undefeated at 24-0 (17 KO's), while the short lucked Smichet falls to 17-4-3 (13 KO's).
On the K2 Promotions and Warriors Boxing "Heavyweight Unification" undercard:
Powerful middleweight prospect Joe Greene retained his NABA regional title and picked up the vacant NABO belt as well with his commanding ten round technical knockout win against gutsy Francisco Mora. Pounding the resilient Argentinean from the onset Greene, decked out in all green: robe, trunks, shoes, and even gloves dropped Mora twice in round two and twice in round four. Despite the constant beating by the southpaw Greene, Mora, to his credit, is doing just enough to justify his right to continue, while skilled referee Tony Chiarantano is keeping a close eye on Mora.
Winning every round the only blemish on the fight ledger is the one point penalty Greene picks up in round six for low blows. While Mora's trip to the canvas in round seven is rightly ruled a slip, it just shows that the big-hearted fighter's legs are gone as well.
With his face bruised Mora gets a look from the ring doctor in round eight and although his right eye is damaged, the thirty-four year-old fighter is allowed to continue. After six more minutes of a beating administered at the hands of the Queens, NY native, Mora returns to his corner after the tenth round and drops to his knees, then slumps onto his side. While Mora's heart and soul would not stop his body did, and at the advise of the doctor the one sided scheduled twelve rounder was halted, giving the still perfect Greene, now 18-0 (14 KO's) the impressive TKO win. Mora slips to 52-13 (35 KO's).
Former IBF Cruiserweight champion Imamu Mayfield did not last too long against highly touted, Kronk gym fighter Jonathan Banks. After a solid right hand drove Mayfield backwards and his glove hit the canvas to keep him up, Banks followed with what seemed to be a grazing right hand atop Mayfield's shoulder which surprisingly sent the 35 year-old Perth Amboy, NJ resident to the canvas again, where he stretched out until the count of ten and referee Eddie Cotton felt he had seen enough. Banks, now 19-0 (14 KO's), gets credit for the KO at 1:49 of the first stanza. Mayfield fell to 25-9-2 (18 KO's), and has now lost five of his last six fights, dating back to 2004.
Talented super middleweight Peter "Kid Chocolate" Quillin also made short work of his opponent, Thomas Brown, now 11-4-1 (7 KO's) as he devastated the York, SC native, sending him writhing in pain to the canvas. Referee Pete Santiago was forced to stop the one sided match, scheduled for six rounds, at the 1:32 mark od round two.
"Kid Chocolate" sweetens his already perfect record to 17-0, with Brown a very quick 14th knockout victim.
European heavyweight prospect Alexander Ustinov was treated very nicely in his first fight stateside by journeyman Earl Ladson, now 13-18-1 (7 KO's). After getting dropped early in round one with a shot behind the head that was ruled a knockdown, Ladson did not waste much time in getting back down to the canvas for two more trips before referee called a halt at 1:59 of the first round. Ustinov, of Minsk, Belarus, now is 8-0, with 8 knockouts. Ladson travels back to Winston-Salem, NC a loser in ten of his last twelve fights.
Fighting for the sixth time since turning pro last September, busy jr. middleweight Ronnie Vargas improved to 6-0 (4 KO's) with his four round unanimous decision win over Monyette Flowers, now 4-9-1, from Memphis, TN. Highly acclaimed as a top-ranking amateur Vargas, fighting out of the Bronx, dominated the night's opening bout; all three judges scored it 40-36 for the young Venezuelan boxer.
Alexa Ray Joel, daughter of legendary musical artist Billy Joel, added to the special night by singing the national anthem. Fight announcer Joe Antonacci aptly handled the duties until HBO prime timer Michael Buffer steeped in, but unfortunately for the packed house neither Klitschko or Ibragimov must have heard the "get ready to rumble" part, as the main event was a stinker that will hopefully be quickly forgotten. Otherwise a great night of boxing, at boxing's greatest venue Madison Square Garden; star studded as always.
Mike Indri can be contacted at RBFNJMIKE@aol.com