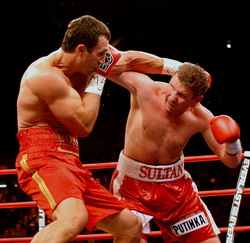 24.02.08 – By Anthony Coleman, photo by Wray Edwards / ESB: Last night Wladimir Klitschko became the first man in nearly a decade to unify at least a portion of the Heavyweight title when he scored a wide unanimous decision victory over Sultan Ibragimov.
According to the HBO crew, the story of the fight was Klitschko's left jab, the punch he used to keep the shorter Ibragimov at bay and off balance throughout the entire fight, but that wasn't the only narrative. The other was the fact that the fight reached a level of god-awfulness that has rarely been seen in a boxing ring. This may have been the worst Heavyweight title fight I've ever seen.
There was not a single moment of drama, suspense and sustained action in this entire miserable fight. In fact the fight was an example of a man who couldn't, and the man who wouldn't. In the first half of the fight it was dominated by Klitschko scoring with his aforementioned sledgehammer jab, and he ruined Sultan's only chance of controlling the outside of the ring with his right jab.. However, there was rarely even a significant power punch landed, as Klitschko wouldn't throw his right cross behind the jab despite plenty of opportunities to throw and land it, while Ibragimov couldn't land his wild haymakers.
In the second half of the fight the action picked up. This means it turned from being a shitty fight, into just an awful fight. Klitschko finally throwing his right cross, and often landed when it was unleashed. Also he would seemingly stun or hurt the now former WBO titlist with that cross. Yet he still wouldn't throw it enough, and in the second half of the fight Ibragimov was hugging his opponent and tried to make it a rougher fight. Meanwhile, many in the capacity crowd began to boo, yet I was surprised that the whole crowd didn't boo and show their displeasure by walking out. When the bell rang and the score cards were read I was angry that I wasted my Saturday night on these two men. This most definitely wasn't a good night for the sport.
I give Ibragimov some credit; he went out there and tried to outbox him and he was at least trying to score that lucky blow to turn the fight around. But his strategy wasn't effective. He should have changed his attack plan when it became obvious that he couldn't control the outside of the ring, and go inside and started going to the body. Would it have increased the likelihood of him getting KO'd? Yep. However, it was his only real legitimate chance of winning the fight, but he and Jeff Mayweather didn't roll the dice.
As for Klitschko, his stock went down even after notching a truly dominant victory. He was the main reason why the fight was so horrible. Besides the jab, he refused to truly commit to any other part of his offensive arsenal. At the Mecca of our sport, he dropped an egg and turned off many in the crowd from watching another one of his performances. Even his own trainer, Emmanuel Steward, was telling him that his performance looked ugly. I can't speak for everybody, but I could feel his frustration.
This fight proved one thing to me: Klitschko still has a lot of anxiety in the ring. At times he looked like a deer in the headlights of a truck. It wasn't just his reluctance to throw power shots either, every time Ibragimov threw a punch that came somewhere near his face, he'd jump back. While he has come a very long way from his lowest (after his two KO losses to Corrie Sanders and Lamon Brewster), he and Manny must eventually solve these psychological problems once and for all because if he faces somebody who can bully him in the inside, he will be in some deep trouble.
And as for Ibragimov, he simply doesn't have the size, punch nor the athleticism to become the elite fighter in the division. He'll be a nice contender and will give other top guys good battles, but he will always fall short of the top spot.
Yet whatever happens with these two men it is still clear that the real losers of last night was the paying public, HBO viewing audience, and the Heavyweight division. Though we now have a fighter who has unified half of the division, none of these boxers have captured the public's imagination and thus few will have an emotional attachment to them. And after this travesty, the Heavyweight division, which is experiencing a dearth in all-time low in terms of popularity, may become more irrelevant to the sports world. Hopefully a change will come in Boxing's glamour division. But don't worry boxing fans because a real fight will take place next Saturday.
New of the World:
-I didn't get a chance to talk about last week's Pavlik- Taylor fight, but here are my observations. Pavlik looked flat but, his jab and right cross was enough to score his second consecutive victory over Taylor, but the real story was Taylor's improvement. I've never seen him more polished and more determined in his career. Though he lost the bout, his career, as I speculated last December isn't over by a long shot. He will be back (and this means that the "Stock Market Plunge Award" shall be awarded to either Antonio Tarver or Joel Casamayor.
-The next couple months will pick up where 2007 left off. We have so many great fights to look forward to: Vazquez-Marquez III, Marquez-Pacquiao II, Margarito-Cintron II, Diaz-Campbell, Casamayor-Katsidis. OK the last fight is probably going to be one-sided as I fully expect Katsidis to give Casamayor the beating he so richly deserves, but everything else is a true fight fan's fight. We have a lot to look forward to in the first half of the year.