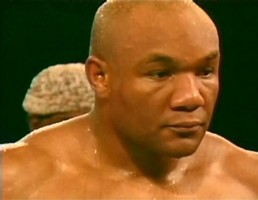 17.12.07 – By James Slater: Big George Foreman was just over one year into his improbable boxing comeback. Following his decade long absence from the ring, the 39-year-old was about to face his toughest comeback opponent so far. Dwight Muhammad Qawi, the former light-heavyweight and cruiserweight world champion, decided to give it a go up at heavyweight.
Coming off two great fights – albeit losing ones – with Evander "The Real Deal" Holyfield, the 35-year-old "Camden Buzz Saw" was convinced he'd end Foreman's dreams of regaining the heavyweight crown. A very interesting, sometimes quite bizarre, fight followed.
Indeed, during the eventful 7 rounds the bout lasted, fans were treated to knockdowns that were not given counts, the sight of one guy pretending to be on his way to the canvas only to spring back into action in one of the most blatant fake outs seen in a boxing match, one guy landing blows to his opponent's back and finally, the loser going out with a no mas that possibly saved the eventual winner from a split decision loss. Such was the strangeness of the activity going on in ring centre at times, commentator Al Bernstein, who was working with trainer and manager Gil Clancy, remarked that there must have been a full moon out that night. Some weird things were happening that night in Las Vegas, to be sure.
Qawi, who was wearing a knee support on his left leg, came out fast at the opening bell. Catching the lumbering Foreman with his overhand right on more than one occasion, the 222 pound and five foot six-and-a-half former champ had a good start to the evening's action. The first three rounds saw Qawi unloading shots to good effect. It was also in one of these early rounds, however, that Dwight hit the mat – only for referee Carlos Padilla to pretty much ignore the fact. Qawi went down in round 3, apparently from an illegal blow to his back, yet nursed the back of his head as though he'd been hurt there. Strangely, Padilla, in a display of refereeing that was short of top-notch at the very least, neither issued a count, gave Foreman a warning, or gave Qawi any time in which to recover from the foul. Padilla's performance was to get worse before the night was over though.
By round 6 Qawi was tiring badly. He'd hit the 235 pound (the lowest weight George weighed-in at during his entire comeback) Foreman with his best punches, both lefts and rights, and failed to budge the old man. George just kept coming and coming, as ponderous as he was. "Gil, do you feel like everything is kind of in slow motion here?" asked Bernstein. Clancy, a one time trainer of Foreman, agreed. The action had indeed slowed to a veritable crawl by now. This sixth round was also the session in which Qawi faked Foreman out by pretending to be on the way down. A big left hand landed flush from George and Dwight's knees dipped as though he was about to fall, but as Foreman backed off Qawi bounced bolt upright and attacked the older man! It was indeed an audacious and risky move from "The Camden Buzz Saw."
In the final minute of the round Padilla, astonishingly, failed to respond to another knockdown scored by Foreman. A big left hook bounced off Qawi's head and into the ropes he sagged. It was only the ropes that kept Dwight upright, therefore Padilla's failure to give a count robbed George of a 10-8 round. As close at the fight appeared to have been at the time, this could have been crucial. Really, Padilla's officiating could very well have changed the way in which George Foreman's comeback wound up, as a points loss to Qawi would certainly have set Foreman back a great deal – and given his critics even more reason to belittle his ring return.
In round number 7, however, Foreman was able to close the show and render the judges' scorecards redundant. A dead tired Qawi was nailed with a hard body shot and turned away and quit. Foreman had gotten the stoppage win, but not impressively – as the crowd's booing indicated. Still, George was now 8-0(8) in his comeback, and on he rolled towards his potential fight with world champ Mike Tyson. The Qawi fight just might have given us a glimpse as to what would've happened had George boxed Tyson in 1988 or '89.
Most fans and experts agree that had Foreman fought Tyson, his best shot at a win would've been in the early rounds. As "Iron Mike's" style was not dissimilar to Joe Frazier's – who Foreman crushed in 2 rounds, of course – many people felt Big George would do the same thing to Tyson, or any smaller, swarming pressure fighter, that he did to "Smokin'" Joe. But George certainly had his hands full with Qawi – an overweight, past his best Qawi at that. If Dwight was able to nail Foreman, and nail him often, what would Tyson have done? The foreman of, say, 1990 or '91, when he'd regained more of his timing and had melted off more ring rust, might have had a shot at derailing Tyson, but I think the Qawi fight proves the 1988 version of George Foreman would have been way to slow and easy to hit for the peak Mike Tyson. 7 rounds to beat an overweight cruiserweight? That George Foreman would not have destroyed a 22-year-old Mike Tyson, surely?
It's nearly twenty years since the Foreman-Qawi fight. Though it's no classic by any means, the fight is one worth digging out for a review. There was no shortage of eventful action in the bout, that's for sure. Some of it may have been on the weird and bizarre side, but Foreman Vs. Qawi was never dull.