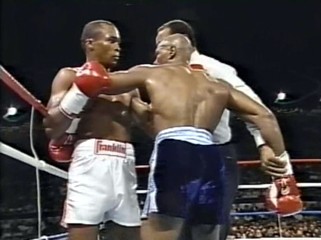 21.11.07 – By Ted Sares: If the 50s represented a golden age of boxing and the 70s were the golden age of heavyweights, then surely the 80s, 90s and this decade are reflective of great fighters who did battle in the 141-162 range.
80s
The 80s are a memorable time. Hagler gives Minter an awesome lesson in how to destroy an opponent in 1980. The boxing world waits for Leonard and Hearns in 1981, Hagler-Hearns in 1985 and Leonard-Hagler in 1987 Sugar Ray replaces Ali as the right man for the right time. His charisma permeates. Hagler, Hearns, Duran and Leonard face off against one another and Sugar comes out on top in the unofficial round robin. The great Benitez fights as well. Mega fights are now held and the participants get mega bucks. Arguello and Pryor go to the brink in a savage battle. Deuk Koo Kim and Ray Mancini go beyond the brink. Only one returns.
Camacho fights through each decade.
90s
Boxing is a microcosm of the decade. As in the 80s but unlike the 70's, boxing's popularity focuses on all divisions. Oscar De La Hoya becomes synonymous with Pay Per View and mega fights. He replaces Sugar Ray with his charisma and good looks but fights his image among his own people. He beat Julio Cesar Chavez twice. He rules. Jorge Fernando Castro, Chris Eubank, Nigel Benn and Michael Watson thrill at the higher end of the weight range and Kostya Tszyu does the same at the other end.
Pernell Whitaker, Chavez, De La Hoya, Tito Trinidad and Roy Jones Jr. dazzle us in the ring. Hopkins debuts. Ronald "Winky" Wright, Sugar Shane Mosley, Vernon Forrest, and Fernando Vargas bridge the gap to the next decade..
The New Millennium
Floyd Mayweather Jr. is undefeated and ranked number one but fighters like Ricky Hatton, Miguel Cotto, Antonio Margarito, Paul Williams, Kermit Cintron and others are breathing down his neck. Zab Judah fights extremely tough opposition but is inconsistent. A guy named Kelly Pavlik explodes onto the scene and takes out Jermaine Taylor. Calzaghi beats Kessler in a global mega fight but their weight is at the cusp of the higher range.
Who will comprise the next batch of great fighters as we move toward the end of this decade?