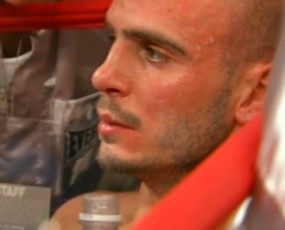 29.09.07 – By Frank Gonzalez Jr. Two undefeated fighters in their prime, facing each other for the Championship Title. Does it get better than this? And so history was made Saturday night in Atlantic City NJ, where Kelly Pavlik got battered and knocked down badly in the second round, but got up, survived the round, regained his legs and went on to win the fight by TKO in the seventh round when he knocked down Taylor who did NOT get up.
And the new…Middleweight Champion Kelly "The Ghost" Pavlik (32-0-29 KO's) showed what true Champs are made of when he faced the reigning Middleweight Champion, Jermain "Bad Intentions" Taylor (27-1-1, 17 KO's) Saturday in Atlantic City NJ..
Jermain Taylor has won some big fights over some big names like Winky Wright, Bernard Hopkins (twice) and even shut out bloated Welterweight powerless punching machine Kassim Ouma. Against Corey Spinks, another blown up Welterweight, Taylor didn't look at all impressive. He was unable to stop Spinks, who took him the distance and did enough quality boxing to make arguments that the decision favoring Taylor was questionable. After that fight, Taylor was asked whom he wanted to fight next. He said, "Whoever will make me the most money!"
That answer didn't sit too well with fans.
Taylor is a tough guy. He DID beat Hopkins twice in my view because he was busier and Hopkins was landing only two, or three punches a round. You can't win a Championship fight that way. Taylor out-hustled Hopkins to win, but it wasn't pretty. Ditto with Winky, who just stopped punching in the final round of their close fight. Then when Spinks went the distance with him, fans like me were wondering if Taylor was going to milk the title or fight the best guys out there.
Taylor's camp did well to choose to fight Kelly Pavlik, who earned his position by impressively beating the highly regarded slugger, Edison Miranda last May. Pavlik used good boxing skills to make easy work of the dangerous Miranda and winning by TKO in the seventh round. He proved himself worthy of a shot at Jermain's Title.
The fans at Caesar's Atlantic City cheered wildly for Pavlik as he made his way to the ring. They booed when Taylor followed.
Pavlik's fans were a big presence at the venue. But this was Taylor's big chance for redemption, after several lack luster fights against too many blown up Welterweights.
The Fight
It was an exciting fight from the beginning as Taylor came out aggressively, landing the first punch, an overhand right. Taylor looked a bit nervous, bouncing around and throwing lots of wild punches—until Pavlik's jab started connecting. Pavlik fought smartly and followed his jab with big rights, one that sent Taylor backwards. Pavlik landed the cleaner punches and easily won the first round in spite of Taylor's early efforts.
Pavlik looked relaxed compared to the hyper Taylor, who wasted too much energy early on. Pavlik was boxing well when suddenly, Taylor threw a barrage of punches and a straight right crashed into Kelly's face and wobbled him. Pavlik was hurt. Taylor went for the finish and Pavlik went down awkwardly. It didn't look like Kelly would make it through the round. There was still over a minute to go and Taylor was on the hunt for the finish. But somehow, Pavlik dug deep and survived. Taylor was unable to land the finishing touches.
Taylor also looked a bit spent at the end of the round. Pavlik joked with his coaching staff in his corner during the break and assured them that he was okay. He looked fine.
In the third round, Pavlik was pressing the action behind the jab that kept Taylor moving backwards. Taylor threw some combinations in spurts and was boxing better as he started to get his nervousness under control. Although Taylor had the faster hands, Pavlik landed the better shots.
In the fourth, Pavlik continued to pressure Taylor with his jab and the combinations that followed. Referee Steve Smoger warned Taylor for hitting low and that was the only warning in the fight. It was a pretty close round but Pavlik did more work.
Taylor was well conditioned in the fifth round. He showed a good chin, taking a lot of Pavlik's punches and using decent footwork to negotiate the ring with the taller Pavlik, who consistently used his jab and was blocking most of Taylor's punches.
In the sixth, Taylor landed good shots from the center of the ring. Then, Pavlik pressured him into the corner but Taylor fought his way out and managed to land more punches in the round. Pavlik's nose was bleeding a lot and he was breathing through his mouth. Taylor landed a big right hand before the bell and managed to win the sixth.
They boxed cautiously at center of the ring in the seventh, until Pavlik pressed Taylor towards the ropes again and this time, landed an unsuspecting straight right hand flush into Taylor's face. Taylor was hurt and he tried to disguise as he moved into the corner but Pavlik continued to pressure him and Taylor took a lot of shots again and again and fell down onto his knees in the corner of the ring. The ref stepped between the fighters and waved Taylor out. Taylor stayed there, with an empty look on his face. He didn't protest the stoppage nor did he try to get up.
It was over. Kelly Pavlik had won Jermain Taylor's WBC and WBO Titles.
Congratulations to Kelly Pavlik, who overcame adversity and went on to win by TKO in dramatic fashion. It will be interesting to see how Pavlik handles his business now. With a rematch clause in the contract, will he fight Taylor again immediately or will he go after another titleholder, like IBF Champ Arthur Abraham or WBA Champ, Felix Sturm?
Word is that Bob Arum wants both fighters to fight interim fights before a rematch. John Duddy was mentioned as a 'next up' fight for Pavlik. If Taylor fights either Sturm or Abraham next and wins, he'd be bringing another Title to the table in the rematch—that is if both were to win their interim fights.
Imagine the powers that be actually allowing the possibility of a unified Champion in ANY division in pro boxing? I can't. But hey, you never know. Since boxing is not based on the merit system and all those top contenders in the division will have to sit by and watch as Bob Arum chooses who fights who next, there is one fight I'd like to see, if Arum is listening—Jermain Taylor vs. Edison Miranda!