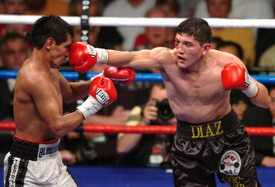 05.08.07 – By James Slater, photos by Naoki Fukuda: Despite the fact that Mexican legend Erik "El Terrible" Morales came up short in his quest to become his country's first ever four-time world champion, the incredible warrior that is Morales still proved a whole load of people wrong in Chicago last night. How many times have people referred to Erik as a shot fighter? And how many times has he proven them wrong? Well, even in losing (for what it's worth, I felt Morales did enough to have won) Morales, now 48-6(34) proved a whole load of people wrong again last night while boxing in the windy city.
At times during the great bout, I was asking myself how Morales was managing to fight so well. His hands were still fast, his punch resistance was admirable and his own power – up at 135 pounds, even – was formidable. This was proven time and again through a blisteringly entertaining battle..
Diaz knew as early as the first round – when he was sent reeling to the floor by a superb right hand to the head – that Erik's punch-power was to be respected. Before the fight, many had asked out loud how Morales had even gotten this title shot. And sure, he hadn't earned it as a contender. But his great performance last night more than showed how his having been given the benefit of the doubt was, on this occasion, justified.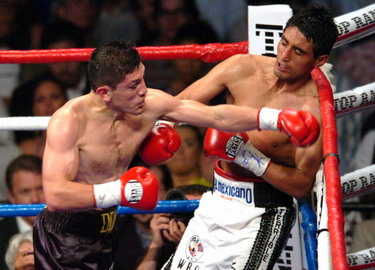 Really, I feel gutted for Morales's dream of making boxing history being denied him. And, to be fair, I do not think either David Diaz or the defending champ's fighting prowess was the force that denied him. The three judges got it wrong in this one. Okay, the verdict, a unanimous one for Diaz, now 33-1(17) wasn't a disgraceful one, but at times Morales was not only out-punching Diaz, but taking him to school also. "A near miraculous comeback," I wrote in my notes while watching the fight, and while he didn't win, I still feel that's what Morales' performance was. How was he able to fight so well after all he's been through in a hellishly long and tough career? Maybe, just maybe, Erik is a fighter still capable of hanging in there with just about any fighter in the world whose name is not Manny Pacquiao?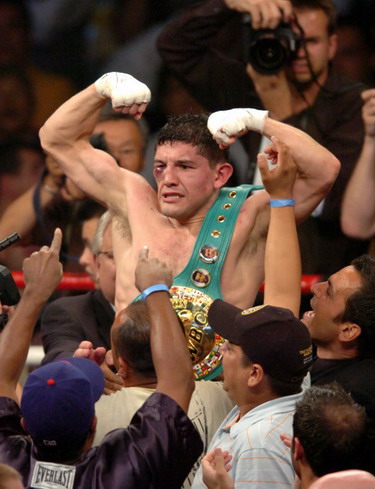 Certainly, Erik looked strong, even at lightweight. He appeared untroubled, too, by Diaz' southpaw stance. Really, Erik looked like a reborn fighter from the one who "Pac-Man" crushed so effortlessly a few months back. To have been denied what he always felt he could achieve all along, though, in his becoming a four-time champ, is a blow even "El Terrible" may not want to come back from. David Diaz is a decent world champion. His aggression, though it was nothing too hot for Morales – despite his best efforts at a late rounds surge – was admirable. So too was his own punch resistance and sheer toughness. But, I repeat, there is no doubt in my mind who should have been given the win in this fight.
Erik "El Magnifico" Morales. Still the modern day miracle man of boxing – even though the three judges never saw things quite that way last night.