06.08.07 – By Steven Shabo: Tye Fields has heard it all from the "Great White Hype" to the "Powder Puff Giant." He has been ravaged by boxing critics and fans alike and despite an impressive record, (38-1, 34 KO's) this Montana native has endured relentless criticism throughout his entire career.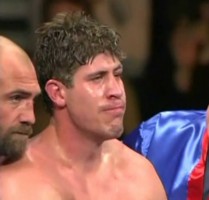 However, what most people don't know about the man they call "Big Sky" is that big dreams die hard. Tye Fields has always lived on big dreams, but not all of them have come true. After a successful college basketball career at Oral Roberts and San Diego State University, Fields found himself an athlete without a future. His dreams of the NBA were over and his carefree college days were gone.
His decision to leave college early to play professional basketball in Europe had gone awry. As a result, he found himself back where he started, in Montana living with his father and family. But his stay was to be short lived when he found himself riding in his friend's van across the country for a tryout with the Des Moines Dragons of a little known semi pro league.
He made the team, but was nothing more than a bench player. Maybe it was then that Tye Fields had an epiphany. Maybe he realized he wanted more from life than a basketball wasteland. He had given everything he had to this sport and now it was over. He was completely burnt out and there was nothing that could change that. On the verge of leaving the team, Field's friend and future boxing manager Paul Sciezinski oddly told him after practice one day that he should forget about basketball and that he could one day make him the heavyweight champion of the world. So with absolutely no boxing experience, at the late age of twenty-four, Tye Fields decided to take up the sweet science and with this a strange new dream was born.
Nearly eight years later, Tye Fields is still dreaming and is still considered an anomaly in the sport of boxing. A southpaw with a good punch and excellent stamina, he stands an intimidating 6'9 and weighs a massive 270 lbs. And despite his inexperience, Fields has been trained by some of the best trainers in the sport, most notably, Emmanuel Stewart and Jesse Reid.
He also has defeated several name opponents such as the formidable journeymen Saul Montana, Ed Mahone, and Maurice Harris as well as former champ Bruce Seldon. But regardless of these impressive wins, Fields has never been considered a real contender. Critics point to the fact that he was knocked out in the first round six years ago by a journeyman named Jeff Ford. However, many fail to mention that Fields avenged that loss when he stopped Ford in one round six months later.
However lately, it appears that things may be looking up for the "Big Sky" from Montana. Fields recently relocated to Las Vegas and signed with Bob Arum's Top Rank Boxing. He won on national television in January with a ten round decision against Kendrick Releford and is next scheduled to face the tough once defeated Cedric Boswell on August 9th in a bout which will also appear before a nationally televised audience.
It remains to be seen if Tye Fields will ever contend for a world title. Who knows if he'll even become a top ten fighter? But stranger things have happened in boxing. They say as long as a man fights, there is hope. And a man with a dream always has a chance.
The next time you're out for a walk and you look up; keep an eye out for the "Big Sky."