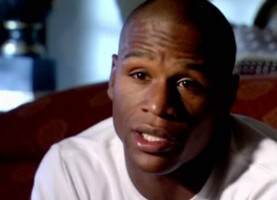 29.07.07 – By Vivek Wallace: Seems like everyday us fight fans are greeted with new speculation on how the world of boxing won't be a draw much longer and how it has quickly lost ground to the UFC/MMA era.
A few weeks ago I did a piece with an article that ended in a plea to the 'Arums', the 'Kings', the 'Goosens', and 'Goldenboys' of the promotion world to step up and give us fight aficionado's something to finally rave about.
Although that article I wrote wasn't in fact the initiator, something with similar prowess – facts unknown – has prompted the promoters to act quickly and from the midst of nowhere, us fans can finally let the the questions end and the fights begin as this Fall is picking up where the sizzlin' Summer left off.
Over the summer we had a chance to see the biggest box office fight ever in Dela Hoya/Mayweather. We later saw fight of the year candidate in Cotto/Judah, and recently we mulled over the Hopkins/Wright affair which merits association, albeit based on the names, not necessarily the action itself.
Now that those fights are over and done with, we set the stage for a fierce Fall schedule and at first glimpse it's downright scary. All of a sudden we have in excess of 5 fights that all have the potential to be an absolute smash and there's no coincidence that the 'Battalion of Young Stallions' – the welterweight division – is right in the midst of it all.
Last Saturday fight fans learned for the first time about the recently agreed upon showdown between Ricky 'Hitman' Hatton (43-0, 31KO's) and pound for pound Champ Floyd Mayweather Jr. (38-0, 24KO's).
Ricky Hatton called out the 'Prettyboy' after his annihilation of Jose Luis Castillo and is on the brink of getting exactly what he asked for. This showdown has been tentatively agreed to and is set to take place in Las Vegas' MGM Grand on Dec. 8th.
The fight will ironically be promoted by Goldenboy Promotions and Mayweather's newly formed Mayweather Promotions. As if Oscar Dela Hoya didn't have enough edge points in the contract for the mega fight between he and Floyd, it was recently learned that one of the less popular stipulations in that same contract made it mandatory for Mayweather to allow Oscar and Goldenboy Promotions to promote (or at least co-promote) Floyd's next fight if indeed he beat Oscar and we all know how that went. Helluva business strategy for Oscar who is a great fighter but appears to be an even better strategist as a promoter.
In another welterweight showdown, which oddly enough pairs Goldenboy Promotions and Top Rank Promotions, that hasn't been officially inked but is said by both camps to be less than a week from becoming official is a Nov. 10 Madison Square Garden showdown between Shane Mosley (44-4, 37KO's) and Puerto Rican sensation Miguel Cotto (30-0, 25KO's). Top Rank's leader, Bob Arum, stated that if Cotto didn't look as well as he did against Zab Judah, this fight would have never been discussed. Unfortunately for Arum, Mosley is no Judah. This could very well be the night that the young Cotto's 'O' finally goes.
As great as those two fights are, they're still a ways off but fans won't have to wait too long as the party officially kicks off in September, starting on the 8th with what I've dubbed the 'Headbanger's Brawl', a showdown between Fernando Vargas (26-4, 22KO's) and Ricardo Mayorga (28-6, 23 KO's).
Three weeks later it'll be perhaps the biggest challenge yet for Jermain Taylor (27-0-1, 17KO's) as he faces 'KO-King' Kelly Pavlik (31-0, 28KO's). Hopkins was a helluva test for Taylor but he probably doesn't hit as hard and he definitely isn't as active as Pavlik who fights constant from the beginning to the end.
Oct. 6th is a Manny Pacquiao (44-3-2, 35KO's)/ Marco Antonio Barrera (63-5, 42KO's) rematch. Some might question why these two are doing it again but one thing for sure, they both come to fight and this bonanza will be no different.
Kicking it off in November is the well anticipated showdown between undefeated Welshman Joe Calzaghe (43-0, 32KO's) and also undefeated Denmark Great, Mikkel Kessler (39-0, 29KO's). These two guys bring it all when it doesn't count so the efforts we'll see on a stage this big will probably go unparalleled for a long time to come.
Adding more suspense to all of this good news is two other possibilities. Far lighter in stature, yet still enough to whet the appetite of anyone who simply wants to see competition in the sport we all love.
One of them has the old but still very formidable Ike 'Bazooka' Quartey (37-4-1, 31KO's) headed down to the already log-jammed welterweight division where he was once nearly unbeatable and still has enough ring savvy to fall in the mid-echelon of a division that has youth in abundance, but until recently lacked great experience.
The other possibility is the previously undisclosed, yet close to fruition showdown between Antonio Tarver (25-4, 18KO's) and undefeated, (yet somewhat untested) Chad Dawson (24-0, 16KO's).
All in all, there's probably never been a dose of steady action this heavy in the world of boxing in one calendar year and when it's all said and done, fight fans can gladly anticipate more action as this is clearly a 'watershed' moment for the sport.
(Got Feedback?: Write Vivek Wallace at vivexemail@yahoo.com or show some love at myspace.com/anonymouslyinvolved)