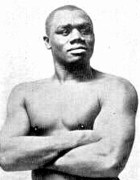 25.07.07 – By Simon Henley: Sam Langford engaged in more than 290 fights during his career in different weight classes, ranging from lightweight to heavyweight. He was ready, willing, and able to meet any man who would get into the ring with him.
Physically, Sam was short and stocky with bulky shoulders and strong arms. His reach was very long for a man of his height. He was described as quick and slippery as an eel in action by Fleischer (1939 p 155). Langford's boxing skills were almost unlimited. He could fight at close quarters or a long range. He would attack the head or body with a two-handed barrage of punches that packed power in both fists. He would duck, feint, block, move in, move out, and shift his attack quickly upstairs or down.
His timing was excellent. He used jabs, hooks, combinations, wide swings, short chops and mixed his punches beautifully. Also, he was as game as they come with a great capacity for taking punishment.
Fleischer (1939 p 123) asserted that regardless of which weight class he belonged to at the time, there was first rate fighting talent present but many of them dodged him because Langford was such a skilled pugilist. Even the champions avoided him. (He did find some takers among the heavyweights because they were larger than he was). The result of all this was that- in order to get fights (and eat)- Langford often had to agree to "carry" his opponents.
Sam, along with Jack Johnson, Joe Jeannette, and Sam McVey comprised a magnificent foursome of black fighters during the early part of this century. These men and other blacks were forced to fight each other on black cards many times and usually provided their own toughest competition. They traveled the country and fought in what the late boxing historian, Tim Leone, referred to as the "chitlin' trail."
For example, Langford fought 18 bouts with Harry Wills, 15 with Sam McVey, 14 with Joe Jeannette, 13 with Jeff Clarke, 10 with "Battling" Jim Johnson, 9 each with Bill Tate and Jack Thompson, 7 with "Young" Peter Jackson, 5 each with "Bearcat" Wright, Lee Anderson, and Andy Watson, 4 each with Larry Temple and Dave Holly, and 3 each with big George Godfrey and Bradford Simmons. Historians are not certain as to the exact number of bouts between these men due to the lack of record-keeping at the time but at least the above numbers were fought.
Further, Sam demolished a number of the "White Hopes" who were chasing after Jack Johnson's Heavyweight Championship but were still willing to take a chance with him (Langford)- Ed "Gunboat" Smith, Andre Anderson, Bob Devere, Dan "Porky" Flynn, Jim Barry, "Fireman" Jim Flynn, Tony Ross, John "Sandy" Ferguson, and Tom "Bearcat" McMahon. He beat several of these men many times.
In addition to the above mentioned fights, Langford pulverized the best European fighters too – knocking out James "Tiger" Smith, Jeff Thorne, William "Iron" Hague, and Matthew "P.O." Curran during trips to Europe.
Some well-known champions bit the dust against Sam as well (but not for the title). He beat Joe Gans in 1903, knocked out the Dixie Kid in 1909 and 1910, knocked out "Philadelphia" Jack O'Brien in 1911, and knocked out Tiger Flowers in 1922.
Stockton (1977 p 33) said "Langford had all the attributes of a great fighter, speed, punching power, an amazingly elusive defense, the ability to absorb punishment, and unlimited endurance". Lardner (1972 p 177) described Langford as being short and squat, a gnomelike man who had a long reach and incredible strength.
Joe Jeannette once called Langford "the best all-around heavyweight" and said Sam hit him harder than anyone he ever fought. Harry Wills called Langford the best fighter he ever fought. "Fireman" Jim Flynn, who fought such men as Jack Johnson, Jack Dempsey, Luther McCarty, Ed "Gunboat" Smith, and many others said "the hardest hitter I ever faced was Langford" (see Weston 1954 pg 20 58). Cannon (1978 p 89) quoted Jack Dempsey as saying "Sam probably would have knocked me out".
Hugh McIntosh, famous promoter of that period, rated Sam Langford as the greatest fighter of the time, even better than Jack Johnson (see Fleischer 1939 p 166). Grombach (1977 p 51) said Langford was probably the only fighter who could have extended Jack Johnson.
Many writers have expressed the idea that Johnson was afraid of Langford and that Sam almost beat Johnson in their 1906 non-title bout. The fact is that Johnson gave Sam a solid beating, knocking him down and probably out (except for a slow count). Langford said "… he [Johnson] gave me the only real beating I ever took" (see Fleischer 1939 p 141).
Fleischer (1939 p 154) elaborated on the subject and said Sam never could have beaten Johnson. He called Langford a giant-killer but says the giants Sam put to sleep never possessed Johnson's science, power, and ring generalship. He later wrote (1969 p 79) that Johnson beat Langford decisively and was the complete master of the situation.
When Johnson beat Langford in their 1906 match, Jack weighed 187 pounds to Sam's 156. Johnson probably did beat Sam soundly but realized that Langford possessed quickness and power to the extent that when Sam reached 180 pounds or so, he [Johnson] preferred not to risk a fight with him.
In spite of his wonderful skills, Sam never got a shot at a title. Carpenter (1975 p 45) called Langford "the finest boxer never to get a shot at a world title". Houston (1975 p 24) said Sam was probably the greatest contender who never won the title and described him as possessing "great punch-anticipation". Gutteridge (1975 p 93) wrote that Langford was perhaps the greatest non-champion of all.
"Dumb" Dan Morgan, famous fight manager, once compared Langford with Joe Louis by saying "Langford, who was a scientific knocker-outer, would crowd Louis, either lead to him or counter him, and take whatever Joe could dish out. I think Sam would finish Joe in about six or seven rounds of real slugging" (see McCallum 1975 p 46).
Langford, who spoke with a lisp (Ise Tham Langfod), was a happy-go-lucky man with a keen sense of humor. His fighting philosophy was simple- "what dat otha man wanna do- don't let 'em do it".
He often predicted the outcome of a bout and was so good at it, he could be called "the Prophet". He shook hands with Morris Harris in the seventh-round of a ten-rounder, told him it was his last round, then kayoed him. He stepped off six feet at a particular spot in the ring for Bill Tate, then knocked him out there. He deposited "Fireman" Jim Flynn in the lap of columnist Beany Walker (at ringside), who had once said Flynn deserved a win in a previous bout with Langford. In fact, Sam always brought the referee with him- one who gave the "right" verdict- his powerful right fist (see Weston 1954 pg 59 60 and Houston 1975 pg 24 25).
Diamond (1954 p 82) wrote "Sam Langford was a great fighter in an age of great fighters. In proportion to his height and weight there never was a greater fighting man. He was not the greatest of fighters but undoubtedly was one of the best".
Langford was a very good fighter in every weight class he fought- particularly as a light-heavyweight and heavyweight. Charley Rose, old time fighter and manager, rated Langford as the best heavyweight of all-time. Nat Fleischer, boxing historian and founder of The Ring, ranked Langford as the seventh best heavyweight in boxing history. In the opinion of this writer, Langford was the fourth best light-heavyweight ever.