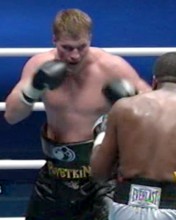 25.07.07 – By Paul McCreath: Back in December I wrote an article which outlined the 5 best heavyweight prospects in the world in my opinion.I thought now that over half a year has passed since then it would be a good idea to take another look at their progress so far this year.Today we will do just that.
#1. Alex Povetkin 13-0-0 with 10 KOs.If there is one fighter in the world who is universally recognized as the number one prospect among the heavies it has to be Alex. This 27-year old Russian, who is a former Olympic superheavyweight champion, has certainly not disappointed in 2007. He started the year with a 2nd round stoppage of veteran David Bostice in March, then followed with another two-round job against Canadian fat boy Patrice L'Heureux. While neither of these opponents were a world beater, it should be pointed out that Bostice went 12-rounds with Calvin Brock in 2005, and 10-rounds with Luan Krasniqi in 2006. He had won his only two fights since.
In his last fight in June, Povetkin took a big step up and won every round against veteran fringe contender Larry Donald. While Larry is getting up there in age, he still has a lot of smarts and gave Nicolay Valuev all he could handle in late 2005. Donald drew with Ray Austin earlier the same year. Povetkin has risen through the ratings at a pace comparable to Ali or Tyson in the past. I can see him taking on a couple more fringe contenders before getting a shot at one of the belt holders or at least an eliminator before the end of 2008.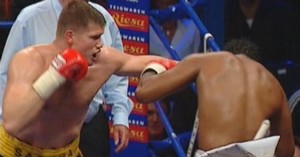 #2. Alex Dimitrenko 26-0-0 with 16 KOs. Alex, now 25-years-old, has been slowed by injuries and a perceived overly careful approach to matching him with name opponents. With Universum stablemate Luan Krasniqi now perhaps out of the picture after losing to Tony Thompson, we may now see Dimitrenko in a more featured role in future promotions, which would mean a step up in competition. He has fought only twice this year, with a seven round stoppage of Danny Batchelder in March and a five-round demolition of Malcolm Tann this month. Dimitrenko has stagnated a bit but this young Ukrainian still remains a top prospect.
#3. Oleg Platov 25-1-0 with 21 KOs. This 24-year old Ukrainian has also had injury problems which have slowed his advancement. In late 2006, he narrowly outpointed former belt holder Henry Akinwande over 10 rounds but injured his arm in the process. He got back into action in February with a one-round KO in Belgium against a four fight novice in a quick tune-up bout then stopped the Aussie Colin Wilson, a veteran trial horse in the 10th round in April. In June, Platov was scheduled for a return match with Akinwande, but pulled out a couple of days before the fight for unknown reasons. We would hope to see Platov in another serious test before year's end. Age is on his side but he needs to stay healthy and move up soon to remain a top prospect.
#4. Eddie Chambers 29-0-0 with 16 KOs. Fast Eddie, the lone American on my list, continues to progress nicely. The 25-year-old started 2007 with a seven round stoppage of the much larger and undefeated Derrick Rossy in February. Following that, Chambers then took on his stiffest test yet by outpointing the well known Dominick Guinn over 10 rounds in May. He can be expected to start working his way through the fringe contenders any time now.
#5. Scott Gammer 18-1-1 with 9 KOs. I guess you can't be right all the time. I was doubtful about including Gammer on my list back in December, mostly because at age 30, he was older than the others. I felt since he was about to defend his British title against former world contender Danny Williams, who appeared to be slipping, that a victory here would propel him forward in the ratings. Williams, of course, crossed us all up by getting into his best condition in years and outlasting Gammer for a 9th round stoppage. Gammer didn't disgrace himself by any means, but his potential seems somewhat diminished now. He has come back with one soft six round decision over novice Paul King and is now heading for an eliminator with John McDermott for the British title. That should be no problem for Scott and then he would likely get a return with Williams if he is still around. I believe that domestic level titles are about all we should expect from Gammer now. He is no longer top 5.
Replacing Gammer at #5 is the American slugger from California, Chris Arreola, 21-0-0 with 19 KOs. Chris who at 26 is still a bit rough around the edges but has the KO power to overcome some more technically gifted fighters. He has come on fast with three KOs this year, starting with over Zack Graham in three rounds in February, Malcolm Tann in eight in May, and this month Derek Berry in one round. Arreola along with Eddie Chambers and late blooming contender Tony Thompson at last are providing some hope for American heavyweight fans, although the majority of the champions, contenders and prospects are still found in Europe.
All in all the heavyweight division is looking a lot better these days.