25.07.07 – By Brett Mauren: If boxing distributed belts for potential and raw athleticism Ishe Smith would be among the most decorated of champions in his era. Unfortunately for Smith behind each title belt is a world of negotiation and promotion..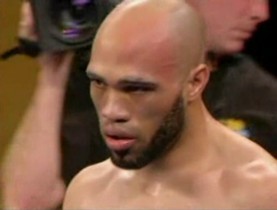 Ishe Smith's career may be the epitome of a figurative roller coaster ride. There was the up of starring on the first season of contender, introducing the world to the fighter/family man on prime time NBC, followed by the downs of a year's worth of inactivity due to a falling out with Contender promotions. In 2006 Smith made his debut with Golden Boy Promotions with things looking up once again. After three fights under Golden Boy, including an HBO showing with Sechew Powell, Ishe was poised for a July 21 clash with former world champion Kassim Ouma.
No more than a week after the rumblings of an Ouma fight began it was announced that Ishe Smith and Golden Boy agreed to a mutual release. Ironically Ouma is now set to face the man who handed Ishe his first loss, Contender champ Sergio Mora.
Contender viewers grew accustomed to a certain flare in Ishe Smith, and now it will be seen whether or not that flare follows Smith into the ring under the direction of his new handler Yaseen Malnik of Seeno Group Boxing. Smith, 29, could very well have yet to see his best years physically, but without question will approach this new chapter of his career with far more wisdom.
One thing that could be observed of Ishe in previous bouts is not only athleticism but world class boxing skills. Ishe has shown the ability to stick to his bread and butter for ten rounds: counterpunching, and going hard to the body for the most part. With solid boxing ability, complimented by top of the line physical ability, and an increasingly smart approach to the game, Ishe seems to hold more than enough of the necessary components to contend in boxing's brightest weight class.
It goes without saying that the big fights are in the welterweight division, and Seeno group looks to have just picked up a welterweight sleeper. Smith's name won't be mentioned with Floyd Mayweather's anytime in the next couple months, as Seeno Group won't be mentioned with Top rank, but put the two together and you may just have a wild card in the fight game. Ishe needs a handler that may make him a top priority, and Yaseen Malnik who calls his firm "the future of boxing" needs fighters like Smith for that statement to ring true.
Ishe Smith has long been in the upper echelon of athletes in boxing and now makes another crack at joining boxing's elite as far as names go. The Smith-Seeno connection won't make headlines in national news, but to see a young promotional company bringing in a fighter loaded with potential should excite any pure boxing fan.