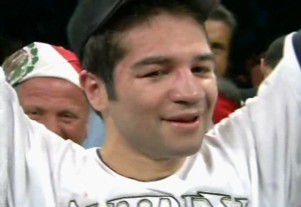 22.07.07 – By James Slater: One week after his career best win over Arturo Gatti, Alfonso Gomez, 17-3-2(8) was keen to speak to me about any subject I cared to bring up as he spoke to me over the phone from his home in California. One of boxing's genuine nice guys, here is what the twenty-six year old had to say.
James Slater: I know the Gatti fight is a week old now, and you've probably been asked all about it many times by now. But do you agree with those who say it was your career best performance to date?
Alfonso Gomez: Definitely. Also, aside from being my best performance, it was my biggest fight and I had to take the opportunity and seize the moment. To do that I prepared myself very, very well, mentally and physically.
J.S: You were smiling as you came into the ring. Were there any nerves at all?
A.G: No, no nerves at all. I was happy to be there, to be getting the opportunity that I got. It really filled me with joy. And also, when some of the fans were booing me that kind of made me smile. I wasn't expecting to be booed (laughs).
J.S: People beforehand were saying you're not a big puncher and that they felt Gatti would win the fight. Do you feel you are a puncher yourself?
A.G: I think I punch pretty hard. I'm not a guy who knocks people out with one punch, like Kermit Cintron and [Ricardo] Mayorga and guys like that. I'm more of a guy that hits pretty hard but keeps hitting you, keeps hitting you, on and on, over and over. And after I've worn you down your face starts to swell up and eventually you crumble. That's more like me, I don't hit devastatingly hard, but I do hit pretty hard.
J.S: The final right hand that finished Gatti was a great punch. Was it the best right hand you've ever thrown?
A.G: Yeah, definitely the best right hand I've ever thrown. I'd been practicing it. It was right on the chin and it landed as he was trying to move away. It was perfect.
J.S: Afterwards you said you wanted a fight with Julio Cesar Chavez Junior. Is that still the fight you really want next?
A.G: I think that would be a good fight. It's not necessarily the fight I want next, but I think a lot of people would like to see that match and that it would get a lot of attention. I think it would top the bill, that fight. A lot of people know him over here is the U.S, because of who his father is, and a lot of people know me because of 'The Contender' and now my win over Arturo Gatti – so I think there would definitely be a lot of buzz about us fighting. I think it could be a tremendous fight.
J.S: You're in a great position now, in a fabulous weight division. Are there any other big names you've got your eye on?
A.G: Yeah, I'm happy at 147 pounds too. When I was younger I tried to make 140, but I was too weak there. I plan on staying at 147 for a long while. But as for who I'd really like to fight, I'm going to say what everybody says – I want a fight with Oscar De La Hoya. That would be a great pay day, and you can really put your name up there with a fight like that. But aside from that, you've got a lot of other great names at welterweight. You've got Miguel Cotto, you've got Zab Judah, Shane Mosley and Kermit Cintron. And Ricky Hatton wants to come up to welterweight again. You've got many other great prospects too. Paul Williams, who just became champion, also. Pretty much anybody you fight at 147 will be a name fighter.
J.S: Talking about Oscar, do you think he will fight again?
A.G: I think he will fight again. I don't think he wants to go out with a loss. There are a lot of names out there that he can still fight, and they all want to fight him, too. Mainly, he has no need to retire because he hasn't been hit too much, he still has all his capabilities and he's mentally fine. He's still physically very strong, so there's no real reason to quit yet.
J.S: You also mentioned Ricky Hatton. I take it you'd jump at a fight with him?
A.G: In a heartbeat (laughs). That fight is a possibility, too. He's a big name over there and I'm not altogether unknown over in the U.K. So I think the fans would love that fight.
J.S: Just briefly talking about 'The Contender' show. Although you didn't win it, did you always feel you were the best fighter from the show?
A.G: Oh, definitely. Walking into the contender house, I felt I was going to win the whole thing. That's why I picked a fight with the supposedly best fighter there [Peter Manfredo]. I knew I could beat him or anybody else there. But aside from that, the way I behaved in the house and the way I put on the fights with my heart and my determination, I think that won me a lot of fans. At the end of the day, they can't call me 'The Contender Champion,' but they can call me 'The People's Champion.'
J.S: Are you still friendly with the guys?
A.G: Oh, sure. Whenever I see the guys we speak and we're cool. Sergio Mora, who won 'The Contender,' lives three blocks away from my house, so we hang out a lot.
J.S: And of course, you fought in the U.K in the U.S Vs. U.K tournament [in Newcastle]. How was that?
A.G: It was a great experience. Over in the U.K they love their boxing, they're big fight fans. But the most surprising thing was when I walked out to fight Martin Conception I got a lot of cheers. Even though I was fighting the local guy. That shows me the power of television and the power of 'The Contender,' the way we were exposed. Also it shows me people appreciate me, so that makes me happy.
J.S: Moving on from 'The Contender,' who has given you your hardest ever fight?
A.G: I think it has to be Jesse Feliciano. He's what you could call my nemesis I suppose. We've fought three times. I have a win a loss and a draw, so we're still tied up. Styles make fights, and somehow my style and his style always seem to clash, that always seems to make the fights with him hard. Ishe Smith was pretty hard too. He beat me on points over four rounds, we were non-stop punching each other. I think that fight should've been a draw, but the referee took a point from me and that's how he beat me. I think all my fights have been competitive.
J.S: Moving on. I know the Gatti fight was only last week, but is there any word yet on when you will fight again?
A.G: No, no word yet. But I'd like to fight in December at the latest, because I want to have a nice Christmas. I could've been busier this year, maybe had four fights instead of three – which I will have had by the end of the year. But the Gatti fight was a pretty big fight.
J.S: Have you watched the tape of the Gatti fight?
A.G: I have, but only once. I watched it to see how I did, but I didn't enjoy watching it. I grew up watching Arturo Gatti, I'm a big fan of his, so it brought me heartache to have beaten him like that.
J.S: I can understand that, Alfonso. For my final question, where do you see yourself in twelve month's time?
A.G: I will definitely be a world champion next year. Next year is going to be my year. I want to make enough money as champion to be able to invest. After I finish boxing I want to go into another passion of mine, which is acting. I've loved acting since I was a kid, so I definitely want to get into that. But right now I'm concentrating on my boxing. This year was my breakthrough year, and next year I will definitely become world champion.