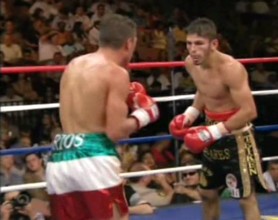 23.07.07 – By Scott Frake: In a beautiful display of boxing, Jorge Linares (24-0, 15 KOs) stopped two-time world champion Oscar Larios (59-6-1, 37 KOs) in the 10th round on Saturday night at Mandalay Bay, in Las Vegas, Nevada. Linares, 21, originally from Venezuela and now living and fighting out of Japan, methodically beat down the 30-year-old Larios, dominating him in every round of the fight en route to the 10th round TKO. On the line was the WBC interim featherweight title, which now rests in Linares' hands, making him to mandatory challenger for champion Injin Chi.
As the fight started, it was immediately clear that Linares, who has been compared to the great fighter Sugar Ray Robinson, was much faster and had a wider array of punches than Larios. However, it was hoped by some that Larios would be able to compensate by applying a lot of pressure and using his superior ring experience to eventually wear down Linares.
Yet, Linares continued to pile up points each round, remaining unruffled as Larios constantly bore down him with punches. Using fast combinations, an accurate jab and constant movement, Linares totally befuddled Larios and had him looking frustrated and tired by the 8th round.
Up until Saturday night, Linares had never fought in the United States, having fought the vast majority of his short career in Japan. For that reason along, there were question marks hanging over Linares' head because of the thought that he'd faced less than stellar competition in Japan. However, Linares more than answered the questions by this win, showing that he could dominate a former champion with ease, and doing something that Manny Pacquiao couldn't by knocking Larios out.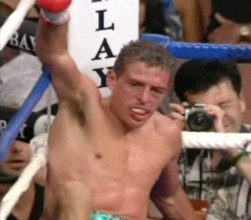 In rounds 1-6, Linares showed blinding speed as he ripped off 3-4 punch combinations, starting down stairs to the midsection and moving upstairs to the head. For his part, Larios kept coming forward constantly and throwing big, slow shots, with most of them missing because of Larios' movement. During the fifth and sixth, it appeared that Larios' constant pressure was having a positive effect as Linares had slowed down somewhat in his huge punch out, which had averaged over a 100 punches per round during that time.
Suddenly, however, Linares threw a huge uppercut, catching Larios napping and it visibly hurt him and caused him to back up for one of the few times in the bout. It seemed as if Linares had been taking power off his punches, in the same way that a baseball pitcher throws a changeup, and then suddenly he put all his power into it and Larios wasn't ready for the sudden surge of power.
In the 7th round, Linares, seeing how effective his uppercut had been in the previous round, threw a large number of them in this round. In fact, Linares threw a lot of punches, period, as he whipped off 3-8 punch combinations, which turned Lario's face red and seemed to drain the energy out of his body like battery.
In the 8th and 9th rounds, Linares changed over from head shots and started a sustained period of body shots, perhaps encouraged because of Larios' attempt at a body attack during these rounds. Whatever the case, Linares showed that he was superior to Larios in that department as well, hurting him with repeated body shots that caused Larios to back up and wince with every shot landed. By the 9th round, it was apparent that Larios couldn't hold up to too much more of the punishment, as he looked physically ruined. Despite this, he kept coming forward but his punches now were almost pathetic, thrown with little force and resembling a drunk stumbling around the ring, throwing wild shots. Linares, at this point, was toying with him.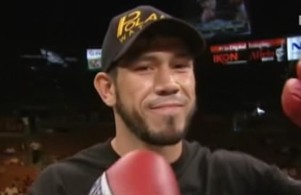 In the 10th round, Linares landed several huge right hands, hurting Larios badly and staggering him. Linares than finished him off with another big right, sending Larios stumbling to the canvas where he fell, resting against the ropes. He made it up before the count of 10, but was in bad shape, weaving back and forth as he tried to stand still. Seeing this, the referee Vic Drakulich called a halt to the bout at 2:37 of the 10th round.
In other action, Super middleweight Librado Andrade 25-1, 19 KOs) stopped an overmatched Ted Muller (19-12-2, 9 KOs) in the second round. Andrade, 28, blasted away at Muller in the first round, clocking with huge shots with both hands, as he tried to take him out with each punch. By a minor miracle, Muller made it to the 2nd round, where the one-sided beating continued for several moments longer until the referee had seen enough of the thrashing and stepped in and halted the bout to prevent serious harm from coming to Muller. This was the first bout for Andrade since being soundly beaten in a 12-round decision loss to WBA and WBC Super middleweight champion Mikkel Kessler in March 2007.