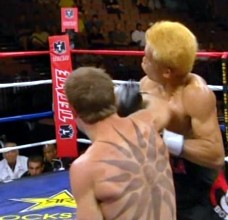 21.07.07 – By Tony Nobbs: It may not have been the "show stealer" (that honor went to Jorge Linares) or end early as I suggested pre fight but it was still a dandy little championship twelve rounder as Michael "Rocky" Katsidis (23-0, 20 KO's) from Australia took a unanimous verdict over number 7 Contender and "some kind of tough" Czar Amonsot (18-3-1, 10 KO's) of The Philippines to retain his WBO "interim" lightweight strap on the Hopkins – Wright under card at the Mandalay Bay in Las Vegas, Nevada today (Sunday 22nd July Australian time).
Entering the ring with his traditional ancient Greek warrior face mask, Katsidis "The Great" got of to that kind of start, in this his first defense and his first appearance in the US. Dominating the first three rounds on the cards, scoring a solid knock down, courtesy of a flush right hand in the second as Czar was coming in, the 26-year-old Rocky was controlling the action, though you wouldn't tell by his face as he had a slight nick and heavy bruising under his left eye.
In round four, 21 year old lefty Amonsot boxed well in the center of the ring as Katsidis moved laterally and backed up. Katsidis got back the momentum in the fifth as he stayed in the box and handed Amonsot a steady work over through the middle rounds.
In round nine heads came together with ref Jay Nady ruling a cut over Katsidis' left eye came from an unintentional clash (Cut man Jim Strickland did a fine job). With the ring doctor looking in the corner between rounds Mick exploded at the start of the fifth as he bombed Amonsot with a furious two fisted attack. Following a knock down from an accumulation of punches he continued to rain blows, before easing up late in the round. Amonsot had a good eleventh round that Katsidis took off, having used a lot of energy in the tenth, and the champion was hit with some solid left hands. Katsidis closed the fight nicely taking the final round. The challenger scored with some snappy right uppercuts and hooks and showed a nice jab, but it was Katsidis' sheer work rate and power that was the difference. Amonsot was warned a number of times for holding.
Official scores: 116,110, 115-111, 114-112.
My score 118-108.
While his style of fighting will make him a popular attraction and bring him some good pay days, if matched right (Dave Bontempo, assisting Bob Sheridan even made reference to Gatti), the Brendan Smith trained Katsidis would probably start an outsider against any of the top 135 pounders. The Ring rate him number 8. He is mandatory for WBA-WBO champion Juan Diaz.
Finally, to half steal a line from Larry Holmes, in the night's main event, Bernard Hopkins mugged Winky Wright without getting him drunk. Hopkins
117-111.