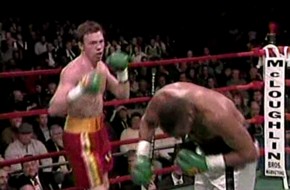 Middleweight sensation Andy Lee will make his Irish professional debut on the Bernard Dunne – Kiko Martinez undercard at the Point, Dublin on August 25th. The undefeated Limerick southpaw will feature in an 8 round bout on what promises to be one of the biggest nights ever for Irish boxing.
The Hunky Dorys Fight Night will also feature a second title bout with Belfast's Brian Magee challenging for Tony Oakey's British Light Heavyweight title. That contest will see history made with a British title contested outside of Britain for the first time ever.
Lee's homecoming will be eagerly awaited by Irish fight fans as they get a chance to study his development up close under legendary American trainer Emanuel Steward.
With 10 straight wins in the pro ranks to date the 2004 Olympian is already considered one of the leading prospects in world boxing and he can't wait for the chance to shine at The Point.
I'm really delighted to be returning home to Ireland to fight," said Lee. "The last 18 months with Emanuel has been a quite an adventure to say the least. I've boxed in places like Detroit, Memphis, New York, Las Vegas, Mannheim and Cologne – but you know what they say, there's no place like home.
"I'm glad my fans in Limerick and across the country have now got the opportunity to come and support me and the other boxers on the show. Every time I come home I keep getting asked when am I fighting in Ireland, well the time has now arrived. It's going to be another memorable and exciting night for Irish boxing at The Point and it's a great pleasure for me to be part of it all."
Steward is also looking forward to his trip to Ireland with the man he believes has the potential to be one of the biggest stars in boxing. Steward who has trained the likes of Thomas Hearns, Lennox Lewis, Evander Holyfield, Oscar De La Hoya, Naseem Hamed and the Klitschko brothers said, "I'm very excited about Andy making his Irish debut next month. It's Andy's eleventh fight and the time is now right for boxing fans from Limerick, Dublin, Belfast and across Ireland to see one of their most talented sons perform."
"Since Andy's career began at the Joe Louis Arena in Detroit in March of last year the amount of goodwill and support he has received from the Irish in America and around the world is amazing.
"I am very pleased with Andy's dedication and commitment. His record speaks for itself, ten wins out of ten with seven KO's. At the age of 23 Andy is both Ireland's and America's rising boxing star, he has a very special and unique talent.
"It's also a great honour for me to be working again with my buddy, Brian Peters, we had some great times in Las Vegas. Brian has done a tremendous job in promoting professional boxing in Ireland. We all can't wait to get over to Ireland, it's going to be quite a spectacle.'
Lee's opponent will be confirmed shortly along with the remainder of a star studded undercard. Brian Peters who is promoting the event along with Dennis Hobson and Pat Magee said, "This is shaping up to be a huge night for Irish boxing. Bernard Dunne will be facing the stiffest test of his career, we're making history with a British title fight in Dublin and that promises to be a real 50-50 affair.
"Now we've added Andy to the card as well and I'm delighted that he'll be making his Irish pro debut at The Point. He's looked very impressive so far in his career and with Emanuel Steward in his corner he is in safe hands. Irish boxing is really buzzing right now and this promises to be the biggest Hunky Dorys Fight Night yet."
Tickets for next month's event priced from €75 go on sale tomorrow morning (Friday, July 20th) at 9am from Ticketmaster.ie and all usual outlets.