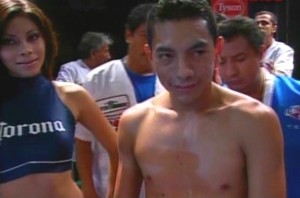 14.07.07 – by Nick Mathur: Tonight, WBC Super Flyweight champion Cristian Mijares schooled game challenger Teppei Kikui at Gomez Palacio, Mexico en route to a tenth round stoppage victory. Mijares thrilled the 12,000 people in attendance by winning every round, and accumulating enough damage on his opponent in the process until the referee humanely chose to call an end to the fight.
Although Kikui was not regarded as a dangerous opponent for Mijares, Cristian was able to showcase his skills tonight in front of his adoring hometown fans. He demonstrated a complete arsenal of punches: a great jab, a fast southpaw left hand, and effective uppercuts with both hands.
It was also impressive to watch his defensive skills at work, as he dodged Kikui's punches time and time again with upper body movement and came back with lightning fast counters.
Mijares punched effectively to the body throughout the bout, and it was one of the main reasons he was able to get a stoppage towards the end of the fight. In the tenth round, he showed a flurry of activity, trapping Kikui at the edge of the ring, and unloaded a combination of body and head shots that had him covering up and not returning fire. Kikui would likely have been able to stay on his feet tonight for twelve rounds, and demonstrated that he has tremendous heart. But with Mijares increasingly beating up on him, and Kikui in a situation where he clearly did not have a chance to win the fight, the stoppage was justified.
Mijares shocked the boxing world three months ago by taking popular Mexican slugger Jorge Arce to school in scoring a unanimous decision win against him. At that point, Arce had been on a fantastic win streak and was regarded as one of the absolute best fighters around that weight class, as well as a candidate for being one of the top ten pound for pound best in the sport. Mijares' other notable wins were against former champion Katsushige Kawashima, who he beat for the title by split decision one year ago, and knocked out in the tenth round of their rematch three month later.
It is amazing how high Cristian Mijares' status has risen in the boxing world during the past few months. Although he seems like a nice guy and has a humble personality, it is apparent that he is a tremendously skilled fighter inside the ring. And, with two thousand fans showing up to witness the weigh-in for this fight, and a crowd of twelve thousand packed into the stadium to watch him against an unknown opponent, he appears to have "rock star" status at the moment here in his hometown.
It will be interesting to see who Mijares will fight next. He has the option of pursuing unification bouts with the other title holders in the division, or going after other somewhat recognizable opponents like Alexander Munoz, Martin Castillo, or even Jose Navarro. However, a rematch with Jorge Arce would be by far the most high profile bout available to him in the near future, once Arce gets back in the win column and establishes himself again.
Until that happens, it would be a great idea for him to get more exposure on American television by fighting on a major network. While the pay per view card was modestly priced by today's standards, it is still something that almost everyone here would not have ordered due to the fact that there were no recognizable names on the undercard, and because Kikui was almost certainly not going to pose any threat to Mijares. As he appears on more fight cards, Mijares will become increasingly well known, and his next fight against a high caliber opponent should be an exciting event that boxing fans can look forward to.