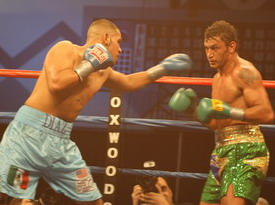 30.4.07 – By Wray Edwards: Photos © Wray Edwards/ESB — Last night at the Foxwoods Piquat Casino Resort in Mashantucket, Connecticut, the WBA Lightweight World Champion Juan "Baby Bull" Diaz stopped the WBO Champion Acelino Freitas when Po Po's corner called a halt to the action after eight rounds. It was a series of rounds in which very concentrated action was the rule. Freitas landed some pretty good shots only to have Diaz bore in with accurate, head-rocking retributions.
Generally, Juan was coming forward about ninety per cent of the time as Acelino tried to stay at boxing range from which he countered pretty well for about the first four rounds. Then during each successive round Po Po's punches began to lose pop, started to wing, and increasingly left him vulnerable to Juan's counters which were escalating in power and frequency. Every now and then Freitas would man-up with great effort and deploy some hits, but these efforts came farther apart with each round from the fifth through the eighth. The following photos portray what was a wild and entertaining event: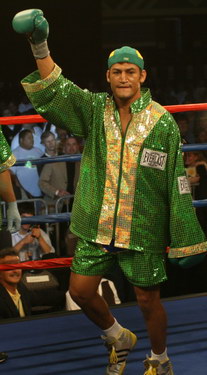 Freitas entered the ring with his right glove raised high to salute his many fans.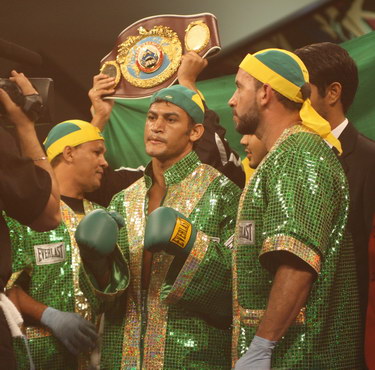 He also posed for the last time with his WBO cummerbund raised above his head.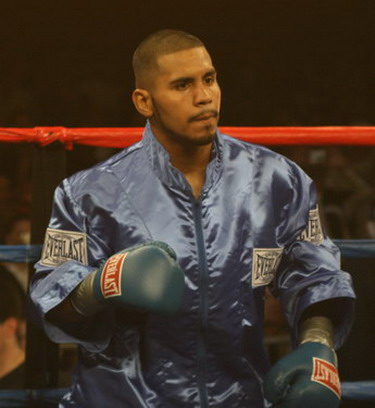 Juan Diaz entered the ring calm and collected in his cool blue jacket.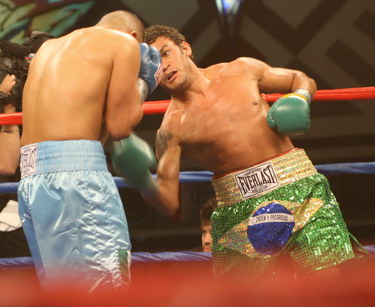 As stated above, Freitas got in some shots, but not enough to gain an advantage.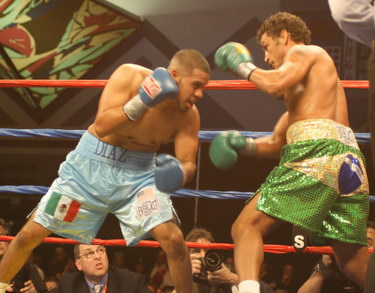 Mostly Diaz moved in with aggressive feints, effective counters and accurate leads.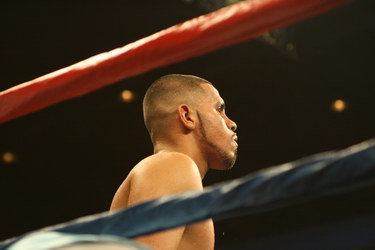 As he stood for each round, Juan was clear-eyed, calm and purposeful. His corner was organized and low key.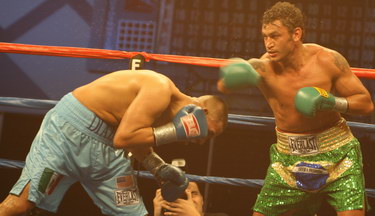 Increasingly, Freitas punches were mostly avoided by Juan's upper body movement.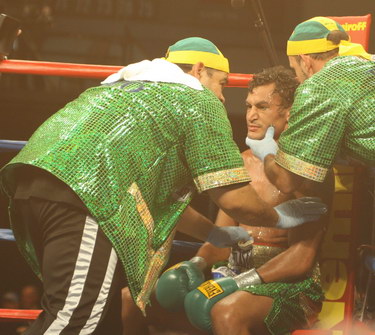 Acelino's corner did their best refresh and encourage him to soldier on under very difficult circumstances. The SRO crowd was roaring approval with the constant action.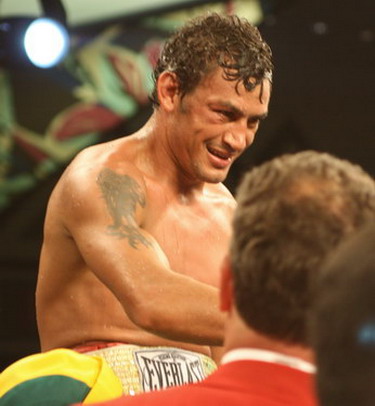 Just before the bell to start the Ninth Round one of Freitas' corner crew approached the ref at the center of the ring to declare Acelino unwilling or unable to answer the bell. Word had it that his crew reasoned with Po Po to see that his chances were fading and his risks were increasing. OK, so he didn't go out on his shield, but after such a career and all he has given to the sport and his fans, it is hard to criticize. He was raised up to celebrate his effort which caused the crowd to boo quite a bit.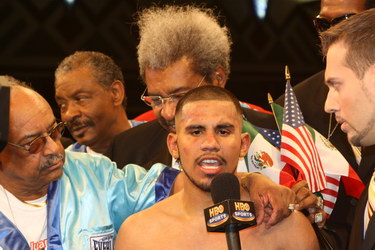 Meanwhile, Diaz was swarmed as HBO tried to pry him loose from his celebrants to conduct his victory interview.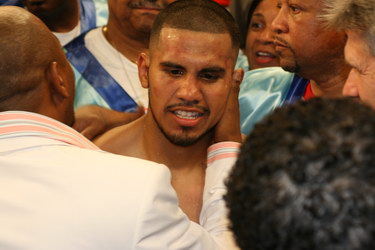 Then into the ring comes Joel "El Cepillo" Casamayor to hug and praise Juan with, undoubtedly, the purpose to imply his interest in the possibility of something more aggressive than a mere hug. Joel's win over Corrales placed him for a time as the WBC titular champion, and even though he has been nominally stripped, he must still figure very heavily in the future calculations of team Diaz.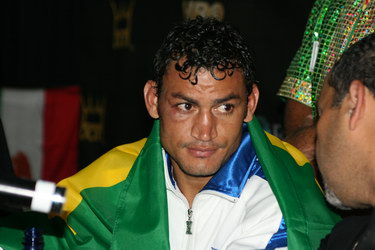 As PO PO sat with his trainer at the post-fight news conference table, it was obvious that he had just been through a pretty severe reality check. You can see it in his eyes.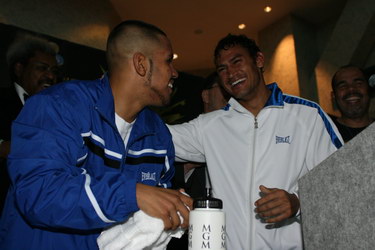 Soon though, Acelino rose to his feet and stepped over to Juan with genuine pleasure and admiration to congratulate the new WBO Champion.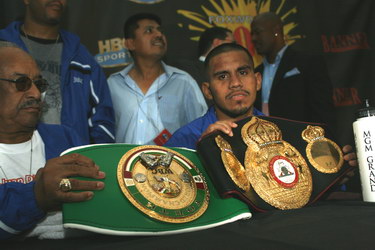 Then East Side Boxing requested that Willie Savannah and Juan lift up his old and new belts for a photo op. Willie and Juan gave us all a good chance to record the moment.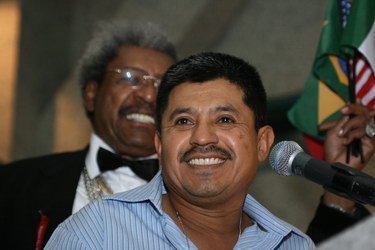 Juan's father was basking in the glow of his son's victory and was given a big ovation for raising such a brave young man.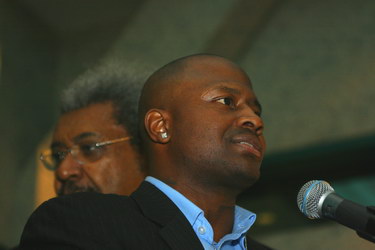 Mr. King introduced Travis Simms for some face time with the media.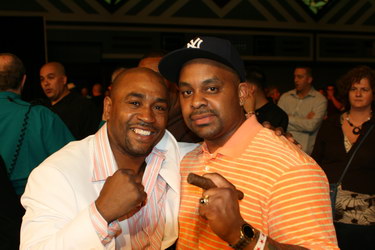 As Casamayor exited the arena he was mobbed by admirers and well-wishers.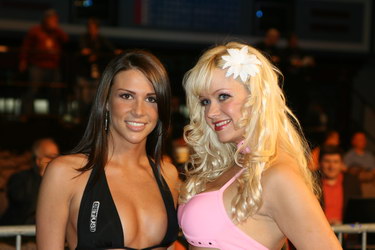 The guys in the room were very thankful for the round card messenger's excellent work.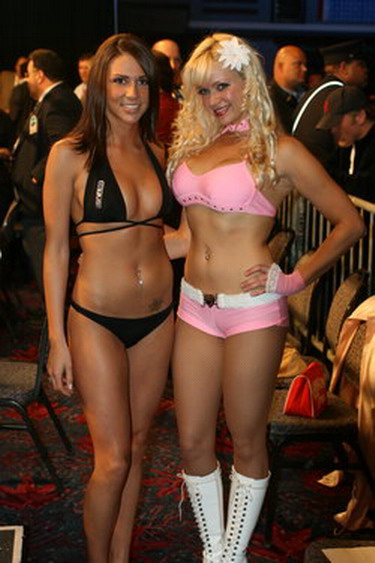 Amid such wild and violent moments, it is quite refreshing and differently exciting to have such stunning visions of loveliness to fill in the blanks.
East Side Boxing would like to thank Ms. Boyd, Ms. Rios and especially Mr. Larry Byron for giving us the opportunity to cover this event and totally enjoy the world-class media buffet. The Piquat Tribe's management of the entire event was professional and a remarkable achievement considering the crush of fans, media and contestants.
Ibragimov-Briggs is not far off. See you at the fights.