30.4.07 – By Ted Sares: The weekend got of to ominous start. After a great dinner of baked oysters and seafood chili at the AP Oyster Company in Mystic, we returned to our hotel in Stonington to watch my friend and former champ, Mike Anchondo, get knocked unconscious by a guy named "Darling," Darling Jimenez to be exact. The fight was on ESPN. The next night we were at Foxwoods to watch Acelino Freitas do battle with Juan Diaz and the noise from the Brazilian fans was deafening. Songs, flag waiving, and the constant rhythm of big drums gave the affair the ambiance of a soccer match..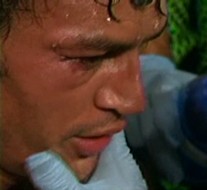 (A Despondent looking Acelino Freitas, seen here, moments away from quitting on his stool following the eighth round)
After we endured most of the dreadful under card, we finally got around to the main event and I noticed the sycophants and assorted suck-ups surrounding Bob Papa, Lennox Lewis and Max Kellerman at ringside as they prepared for the main event. I said to my wife, Holly, that if I were to ever act like that to give me a hard reality whack across the face.
As for the fight, it more than lived up to its hype and my hoarse voice is the best evidence of that. The first two rounds were competitive with Popo landing a few hard shots which sent his adoring fans into mass hysteria and song. But for every shot he landed, "El Torito seem to land more. I mentioned to those within earshot that unless Freitas did something dramatic early, it was going to be a long night for him. The Bull looked unusually sharp and eager.
Rounds three and four were close with Diaz landing the better shots. While I had Popo ahead 3-1 at this point, he was breathing heavily and starting to retreat. The hungry Bull was coming on. Then it happened, and for all practical purposes the fight ended in round five. El Torito, sensing that Freitas was running out of gas, put things into overdrive, alternating vicious shots downstairs and upstairs. At one point, I counted six brutal body shots in succession His volume of crisp punches and hand speed had Acelino holding on. The crowd was up and roaring its approval. He was visibly dejected as he walked back to his corner and the silence of the Brazilian fans suddenly became deafening. Diaz appeared fresh and ready to close matters. His fans were now up and doing the screaming while Popo's fans had been taken out of the fight. No easy task.
Juan Diaz has the unusual ability to engage successfully in a toe-to-toe slugfest while at the same time maintaining technique. This extraordinary inclination, combined with his rock-solid chin, simply was too much for the heavy-handed Brazilian.
Popo pretty much ran out of gas in the sixth and backpedaled the rest of the way, getting caught with rattling combinations and body shots that nearly dropped him a
nd frequently brought us out of our seats. Diaz kept the pressure on and Popo had nowhere to hide. It was simply a matter of eating Diaz's barrage of combos while pinned against the ropes. These punches were nonstop, heavy and vicious and belied Juan's reputation of a soft puncher. The Brazilian idol had no answer.
When Acelino retired after the eighth, it came as no big surprise to the more astute boxing fans. Freitas is a proud man known most notably for his legendary comeback against rival Argentinean Jorge Barrios back in 2003. But going out on his shield is simply not in the cards. The younger, speedier, and less battle-weary champion, Juan Diaz, had now won the WBO and WBA Lightweight Titles. More importantly, he won many new fans with his aggressive, take-no-prisoners approach. He sure as hell won me over as I was out of my seat for most of the last 3 rounds.
At the time of the stoppage, Judge Clark Sammartino incredibly had it 76-75; Judge Glenn Feldman 77-75 and Judge Steve Epstein, who was the only judge not asleep, 79-73. More atrocious scoring, but then Sammartino and Feldman also were the judges in Freitas-Raheem. Go figure.
As we were walking out of the hall, I mentioned to my wife that Canadian Bermaine "Beware" Stiverne, 12-0 with 12 ko's, probably would knock out his opponent, Earl Ladson, from North Carolina in the walk out bout. Just then, we heard this loud "oooh" from the few remaining fans and a thud. As we turned around, Ladson, 12-16-1, lay unconscious courtesy of a one-punch savage icing from the impressive Stiverne. Perhaps a name to remember.
All in all, an enjoyable and satisfying night with Popo and El Torito at Foxwoods.