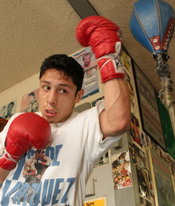 28.02.07 – Photo by Joe Miranda – Can a little man defeat a naturally bigger boxer, or does the physically larger man have the advantage? Does size matter? Will this eagerly awaited confrontation, as many predicted once contracts were signed, turn out to be the Fight of the Year? Those questions and more will be answered when Sycuan Ringside Promotions' Israel Vazquez defends his World Boxing Council and The Ring magazine super bantamweight titles against International Boxing Federation/International Boxing Organization bantamweight champion Rafael Marquez on Saturday, March 3 at The Home Depot Center in Carson, Calif.
Tickets, priced at $25, $50, $75, $100, $150 and $200, are on sale at TicketMaster outlets and at TicketMaster.com. They also may be purchased at The Home Depot Center from 10 a.m.-6 p.m. Monday-Friday and on Fight Day starting at 10 a.m. First bout is at 4 p.m. PT.
"I think it is definitely going to be a fight of the year and I cannot wait for Saturday to get here,'' said the exciting, crowd-pleasing Vazquez, who will enter the ring for his third title defense with a record of 41-3 with 31 knockouts. "I am looking forward to March 3. We all are..
"I have been waiting for this fight for a long time. Mentally and physically, I am as prepared as I have ever been. I am ready to give my all once I get inside that ring. The only winner, besides me in this fight, will be the fans. I will give them what they want to see.
"To have two world champions from Mexico City going at it is going to be a great fight that everyone can enjoy. I can say I am proud I am a Mexican fighter and both of us are going to be going at it toe to toe.''
The Little Big Men are highly regarded in the world of boxing and both are fixtures on many pound-for-pound lists. Vazquez has been victorious in nine straight, winning seven by knockout. Marquez has won 15 in a row, 12 inside the distance.
Although moving up a notch in weight, Marquez (36-3, 32 KOs) is expected to provide "El Magnifico" with his stiffest challenge in the 12-round match.
"If I want to be considered the best in my weight class I can't duck any legitimate challengers," said Vazquez, who currently resides in Huntington Park, Calif., a Los Angeles suburb. "I expect Marquez to come at me with everything and try to knock me out.
"He is a fighter that carries a lot of punch at 118. But I think we are all interested to see what kind of power he can bring at 122 against a natural 122-pounder like me. He has never had to do that before.''
Vazquez is one of four current Sycuan Ringside Promotions world champions. He is handled by reigning three-time Manager of the Year, Frank Espinoza.
"I have a great team," Vazquez, 26, said. "They have done a terrific job for me behind the scenes. It is my job to win in the ring.''
Outside the ring, the youngest of four brothers is a popular, pleasant, personable, classy young man who would make any mother proud.
Inside, he is a raging tiger who has made a habit of manufacturing mighty performances when the spotlight is shining brightest and the pressure is seemingly at its greatest
With championship belts up for grabs, Vazquez is a flawless 6-0 with five knockouts. With lights-out efficiency, he goes through opponents like a growing teenager goes through pairs of pants, quickly and often.
A two-time world champion at 122 pounds, Vazquez captured the vacant IBF title by knocking out southpaw Jose Valbuena in the 12th-round on March 25, 2004 in Los Angeles.
Vazquez added the WBC belt to his wardrobe with a bloody, convincing, shockingly easy third-round knockout over defending champion and 3-to-1 favorite, Oscar Larios, on Dec. 3, 2005, in Las Vegas.
Vazquez followed the Larios lumping with another impressive, dominating performance. One-sided from the outset, Vazquez sliced and cut up Ivan Hernandez en route to retaining his title with a bloody fourth-round TKO June 10, 20006, in Atlantic City.
So bloodied was Hernandez that Vazquez's frosted blonde hair had changed colors to a gruesome reddish tint, the result of the challenger's blood that had spilled onto Vazquez after the champion had spent most of the night landing shots off of the fellow Mexican's red face.
Vazquez's star was quietly growing larger and brighter with each outing. He would solidify his reputation as a true warrior and one of boxing's greatest and most thrilling champions when he rallied from two knockdowns to flatten Jhonny Gonzalez in the 10th round of a tremendous slugfest on Sept. 19, 2006 in Las Vegas.
Vazquez hit the canvas in the fourth and sixth rounds from sharp left hooks. He dramatically turned the tide, however, when he dropped the bloodied Gonzalez the first time in the seventh. After flooring Gonzalez again in the 10th, the challenger's corner threw in the towel.
Now, Vazquez is days away from what some perceive as the defining fight of his career.
"Whoever wins March 3 is definitely going to have a lot of doors opened for him,'' said Vazquez, who has looked lightening quick in recent workouts. "My fight with Marquez is going to be a war. I think everyone understands that by now.
"The fans are going to be treated to an excellent fight. You're going to see two, proud, Mexican warriors battle it out."
About Sycuan Ringside Promotions
Sycuan Ringside Promotions of San Diego is considered to be the fastest-growing and most dynamic promotional entity in the sport. Sycuan Ringside Promotions made its promotional debut during 2004, but already has or had six current or former world champions and has promoted and presented world title bouts across the country on premium cable networks.
Sycuan Ringside Promotions has many notable boxers in its stable, including undefeated World Boxing Organization junior lightweight champion Joan Guzman, IBF lightweight champion Julio Diaz, World Boxing Association super bantamweight champion Celestino Caballero, former WBC welterweight champion Carlos Baldomir and undefeated prospects teenage lightweight sensation Jorge Paez Jr. and cruiserweight Shawn Hawk.