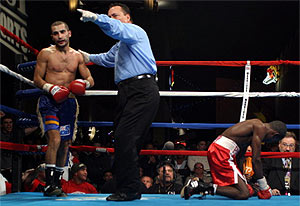 28.02.07 – Interview by John Herndon, BoxingConfidential.com: Vic Darchinyan's world title defense against former IBF world champion Victor Burgos on the March 3rd edition of SHOWTIME CHAMPIONSHIP BOXING (live at 9 PM ET/PT) from The Home Depot Center in Carson, Calif. will represent only his fifth pro fight outside his adopted country of Australia.
The undefeated champion is furthering his reputation as one of the best punchers, pound-for-pound, in the game today. The heavy-handed Australian's victims have included Jair Jimenez, Diosdado Gabi, and Luis Maldonado, the latter two coming on Showtime. Vic Darchinyan is now 5-0 with 5 KOs in title fights and hasn't gone the distance in more than three years.
The man they call "Raging Bull" will defend his IBF title for a sixth time. What the offensive-mined, crowd-pleasing slugger desires, however is to prove that he is the best of all the champions from 112 pounds to 130 pounds! ..
JH: Vic how are you doing? Tell us what's going on with you?
VD: I plan on having a great fight on Showtime against Victor Burgos. The guy who beat Jorge Arce. And after him I want to fight Arce.
JH: People are saying that Arce is ducking you. True?
VD: I challenged him in Mexico and he said that he would fight me. And nothing.
JH: I see.
VD: I want to fight guys who will fight me. I can't unify because the other champions don't want to fight me. I want to fight other champions. In the bigger weight classes.
JH: So you want to chase champions.
VD: Yes. This will probably be my last fight at flyweight and than I will move up. I want to test myself against the bigger guys. In this weight class I feel like I am fighting against kids. I want to fight against men! Bigger guys.
JH: Boxing fans love to hear a champion talk that way. They love to hear a fighter who will try to exceed his grasp.
VD: Yes. I don't want to stay in the flyweight division and defend a title 16 times. I want to fight the bigger champions and test myself. If you can beat me than you beat me because you are the better man not the bigger man. I want to fight Rafael Marquez.
JH: Wow! Marquez is moving up to 122lbs this weekend to take on Israel Vazquez. You want to fight jump over two weight classes and fight him at 122.
VD: I can do it. You remember Manny Pacquiao was fighting at 112 and he moved up.
JH: True. Manny did make the move up in weight and he seems to have gotten stronger as he moved up to the bigger weight classes.
VD: I want to fight Manny Pacquiao. Not now but if he is still around maybe in 1 or 2 years. I am not saying I am the best but I want to fight the champions. This guy Victor
Burgos. He told me in the press conference that he was going to stand and fight against me. I am glad to hear that.
JH: Alright. Well I am certain that the people are excited to hear this. So the fan can expect to see a great fight this Saturday.
VD: I told him that I will destroy you.