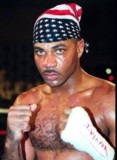 27.02.07 – By Kyle Waterstone: Recently we caught up with DaVarryl "Touch of Sleep" Williamson to see what's been going on and where the former IBF title challenger has disappeared to.
Kyle Waterstone: What's going on DaVarryl?
DaVarryl Williamson: Not much, just been doing my thing here in Denver, waiting for my home phone or cell phone to ring with someone on the other end telling me that it's time to get back into the ring. I'm dying for a fight.
Kyle Waterstone: What happened to you following the Mike Mollo fight? It seems like you disappeared. Was there an injury?
DaVarryl Williamson: Hell no, I've just been waiting for my promoter, Don King to figure out which slot I fit into, but it hasn't been for lack of trying on my part to get a fight. I was supposed to be the "coming out" party for Mike Mollo, but once again, I showed that I'm not shot, over-the-hill or got old overnight. I think my 4-round destruction of Mollo raised a few eyebrows and made it somewhat difficult to secure me a fight. I mean c'mon, Mike Mollo has fought like 4 times now since I stopped him and I can't get a fight?!
Kyle Waterstone: You said you've been trying to get a fight, who have you been trying to get into the ring with?
DaVarryl Williamson: Anyone! I reached out to DKP about Sultan Ibragimov, but I never heard back from anyone on either side, and its probably because I'm not ranked by the WBO. Now explain that to me. How can I not be ranked by the WBO when my last fight was a KO(4) vs. Mollo, who was at the time ranked #15 by the WBO! Its pretty crazy. I'm definately an upgrade over Javier Mora, but Warriors Boxing never called, Boris Greenberg never called, Don King never called.Its not like I'm hiding, hell I was the first person to throw my name out there, called Greg Leon myself! I'm starting to think I need to change my nickname to DaVarryl "Too much risk, not enough reward" Williamson.
Kyle Waterstone: Anyone else you've tried to get a fight versus?
DaVarryl Williamson: Let's see. I threw my name in the hat for Holyfield, never heard back from them. I know DKP offered my name up to Valuev's people prior to his fight vs. McCline, and the Germans said "hell no", too much risk, not enough reward I guess. I mentioned Ibragimov, I think Krasniqi was a possibility at one point, I've tried to get Minto in the ring. I'll bet if you name someone I've probably been mentioned in the same sentence with them over the last year.
Kyle Waterstone: Why would beating Mollo make it hard to get a fight?
DaVarryl Williamson: I knocked out an undefeated prospect, who then went on to beat Kevin McBride. People saw my fight vs. Byrd and obviously it turned them off of me, but maybe some of the bigger names may have pulled my number if I struggled in back-to-back fights, but I didn't, so it makes people think twice. Anyone can fight a stiff with a ranking, but few people want to really put it on the line against a live opponent, especially a live body that can hit like I do.
Kyle Waterstone: Any prospective fights on the horizon?
DaVarryl Williamson: Who knows. We've tried to stay in touch with DKP, and I've heard names like Lamon Brewster and Sergei Liakhovich mentioned, but as of right now it all rumor. I've got nothing on the table. Its really frustrating to stay prepared with nothing on the horizon, but I'll always be in the gym, someone is bound to fall out on a card somewhere, and I need to be ready to replace them on short notice if need be.
Kyle Waterstone: Don't you and Lamon Brewster have history?
DaVarryl Williamson: Absolutely, we go way back to the amateur days. Styles make fights, and I think Lamon and I made for some interesting wars back in the day, but at that time, I got the better of him on a few occasions. I think I beat him 3 or 4 times and stopped him twice.
Kyle Waterstone: If you can't get any of those fights, who else is on your radar?
DaVarryl Williamson: Anyone, but some of the names my manager and I have discussed in addition to the guys I've already mentioned are: Tony Thompson, Donnell Holmes and his mysterious WBC #8 rating, J.F. Bergeron needs to step it up, and there's always Oliver McCall who is ranked #5 by the WBC, and hasn't shown any interest in trying to avenge his loss to me.
Kyle Waterstone: You mentioned Tony Thompson, he's been on a roll lately, why him?
DaVarryl Williamson: You already said it. He's been on a roll. He beat Guinn, then one of those Ibragimov's, and I read his interview on Boxingtalk, and he's talking about trying to get a meaningful fight. Well I'm right here baby. Let's get it on. Couple of D.C. area boys putting it on the line, sounds good to me. I'm ranked by the WBA & IBF, so maybe Dan Goosen & Don King can make it work as an eliminator or something. I'll fight any of those guys, they have the ranking and as far as I know, none of them have an immediate dance partner, but Tony looks most attractive at the moment, because he has been on a roll and is the flavor of the month, plus we can do this in DC and make it a real "Hometown Throwdown". Lets do this!
Kyle Waterstone: Anything you want to say in closing DaVarryl?
DaVarryl Williamson: Yes. I will fight anyone, anytime. I realize my market value coming off the Byrd fight, but if I don't fight, how is my stock supposed to improve? Someone out there has to be looking at the ratings trying to figure out how to move into contender status. Well you can try and go through me. I'm still ranked Top 10, I can still participate in an eliminator, I'm in shape and ready to go, I just need that phone call.
Kyle Waterstone: Thank for your time DaVarryl and good luck.
DaVarryl Williamson: Thanks, and to my fans, keep the faith and check me out on www.tosboxing.com