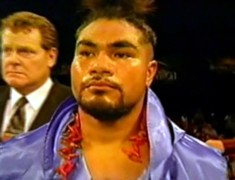 26.02.07 – By James Slater: The bout between David "The Terminator" Tua and John "The Quiet Man" Ruiz wasn't much of a fight. In fact, it was an absolute slaughter. And afterwards, the man whose lethal fists were responsible for the devastating destruction job was considered a dead-cert to go on and capture world boxing honours at heavyweight. It wasn't so much the quality of his opponent in Ruiz – who at the time was still some years away from becoming the awkwardly stubborn and durable fighter that would capture the WBA heavyweight title – it was the way David dispatched him that earned him the praise.
The destruction job he did on John, in a mere nineteen seconds of boxing, was positively terrifying. So much so that notice had definitely been served to all other heavyweights – both contenders and champions.
As we know, Tua never got his hands on a world championship belt. After an honourable and close loss to the incredibly talented Ike Ibeabuchi – a man who was considered by many to be the next heir apparent himself – Tua got a shot at Lennox Lewis' world title. Despite his best efforts, however, he was unable to land any punches that were remotely like the ones he'd smashed Ruiz with. Lewis boxed his way to a comprehensive points win and a dejected Tua was considered a let down by many.
As harsh as such criticism may have been, David's big chance had come and gone. Against any other champion of recent years the story may well have been different, but against the vastly taller Lewis, Tua just couldn't get close enough to do damage. David must have been even more depressed when Ruiz himself managed to become a world heavyweight champion – the man he had terminated in such swift and effortless fashion. Needles to say, John was in no rush to defend his newly acquired WBA belt against the Samoan powerhouse.
Things continued to go down hill for Tua in the months after the loss to Lewis. He was soundly out pointed by the crafty and skillful Chris Byrd and then held to a draw by former KO victim, Hasim Rahman. And despite sandwiching in another impressive first round KO between these two disappointments – this one over former heavyweight ruler Michael Moorer – David's lone title shot had come and gone. Until now, that is.
Tua, as we all know, has recently embarked on a comeback after a considerable absence. Promotional problems and other niggling obstacles served to keep "The Tuaman" out of the ring. But now he is back. Surely, in today's wide open heavyweight division there is a place for David Tua? And just as surely, there must be another title shot in the offing for him should he keep his comeback momentum going. If David can once again find the kind of form that so chillingly accounted for John Ruiz, then he will have a chance with most anybody. With his weight back down to what it should be for a man standing five feet and ten inches, Tua can once more feature in the middle of the heavyweight scene. Just think of some of the mouth-watering match-ups that are possible!
What about Tua versus Samuel Peter for an ultra- attractive clash? It would be KO artist vs. KO artist – or bombs away! Who wouldn't fork out the cash to see such a fight on pay-per-view? Not too many fans, that's for sure. Or how about Tua vs. Lamon Brewster for another guaranteed thriller? Really, the list of potentially great fights for David is quite plentiful. Even a fight with Mike Tyson – at this advanced point of time in "Iron Mike's" career would still more than likely have fans salivating. If Tyson does fight again – and the notion is in no way a silly one, such is Mike's seemingly constant need for funds – and if he was willing to sign the contract for a bout with Tua (providing, naturally, that Mike isn't jailed in the very near future) I am convinced the fight would produce a sell-out. I don't care what you say, a heavyweight rumble between two proven punchers such as these two will always get the fans running to the arena.
So yes, the career of David Tua is more than capable of being revived. And the status once enjoyed by one of the most naturally gifted and lethal power punchers in recent memory could be held yet again. It's all up to David and his desire to want to reach for it.