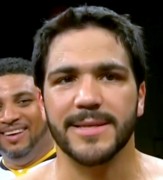 25.02.07 – By John Way: It's impossible to ignore the obvious similarities in the boxing careers of Joe Mesi and Bruce Seldon: each have recently languished through damaging layoffs, both have dealt with character questions, and both are fresh from first round knockouts. On the other hand, Mesi has been a marked overachiever since turning pro, while Seldon has never capitalized on his extraordinary talents. So, with both men nearing the end of the trail, why not bring the two together on ESPN for a cross-roads bout with the winner taking a tangible step towards title contention, and the loser a step closer to retirement.
The troubles all started for Mesi of Buffalo NY in March 2004 following his unanimous decision victory over Olympic boxing gold medallist, Vassily Jirov. Following a series of impressive wins over Robert Davis, David Izon, Davarryl Williamson, and most recently, Monte Barret, Mesi was already rated the number one contender by the WBC, and a title shot seemed like a certainty later that year.
Instead, after dominating Jirov in the early going, he lost his concentration and was floored hard three times in the last two rounds. A maelstrom of controversy erupted after Mesi was diagnosed as having a subdural hematoma i.e. bleeding on the brain, obviously a life-threatening condition for a man taking blows to the head for a living. Thumping to his favorite Beastie Boys album, Mesi found himself embroiled in a legal battle for the next two years, fighting for the right to…fight.
After passing a battery of neurological tests, "Baby" Joe was licensed to fight in Puerto Rico, where he faced journeyman Ron Bellamy. Looking badly bloated, he waded his way to a lackluster unanimous decision. Three more wins brought him a showdown with George Limburger (would a rose smell so sweet by any other name?) on network television. Regarded as a serious threat with knockout potential going in, Limburger simply couldn't rock and roll with Mesi, and was dropped hard on his face twice before the fight was mercifully stopped at 1:55 of the first round. Suddenly, talk of subdural flimflam disappeared and fans across America are again singing the praises of the pudgy, overachieving New Yorker. The week before Mesi notched his sensational stoppage, Bruce made his return to the ring by scoring a knockout, also in the first round. Since his controversial loss to Mike Tyson, Seldon has had mixed success in his boxing career, looking occasionally spectacular against men like Otis Tisdale, while falling apart against Tye Fields and Gerald "The Jedi" Nobles.
A supremely gifted offensive fighter, Seldon has hitherto lacked the concentration and courage to live up to his billing as a can't miss prospect. Now in his late thirties, the clock is ticking fast and it's time for the former world champion to make a move. Bruce has reintroduced himself to boxing with a first round win over bottom feeder Marcus "The Tuna" Rhodes, upping his record to 2-3 against fighters with ludicrous nicknames. Although Rhodes is a fragile .500 level fighter with limited skills, the win demonstrated that Seldon has retained his full arsenal. After tossing the jab during the opening moments of the fight, the former champion bounced on his heels a few times before bushwhacking Rhodes with a flush right hand, ending the fight after only one full minute of action.
At this point Mesi and Seldon are a perfect match for one another. In Seldon, Mesi would have a chance to continue his comeback against a semi-credible former champion, and, given Seldon's tendency to collapse under light punishment, the possibility exists for another spectacular KO. On the other hand, a win for Bruce could led to a fight against a top ten contender, and a win might well be in the cards if he can maintain his focus. From a promotional standpoint, this would be an easy sell for Friday Night Fights, where each has previously been a mainstay.
If he can secure a license in New York, a Homecoming in Buffalo would be HUGE for Joe at this point, certain to sell out any of the city's largest sporting venues. Both men would find the match-up lucrative, and it would go a long way in paying off the lawyer fees from Mesi's legal battles. So how about Mesi/Seldon for May 2007? Comments and questions are welcome below.