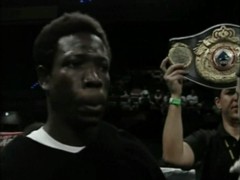 HOLLYWOOD, FL, January 31 – Without question one of the most exciting fighters in the world today, Uncrowned Middleweight Champion, Edison 'Pantera' Miranda will make his long-awaited debut in his newly adopted home of Puerto Rico on Saturday, March 3rd when he takes on hard-hitting rising star Allan 'Sweetness' Green on a star-studded HBO World Championship Boxing card featuring Miguel Cotto's WBA welterweight title defense against number one contender Oktay Urkal.
This stellar doubleheader, which is presented by Top Rank, with Miranda-Green being presented in association with Seminole Warriors Boxing, will air live on HBO from the Coliseo Roberto Clemente in San Juan, Puerto Rico. "Puerto Rico has become like a second home to me," said Miranda, a native of Colombia. "I love to train there and the people treat me like one of their own. I can't wait to fight in front of the people of San Juan on March 3rd, and I promise to treat them to another knockout victory against Allan Green."
A two-fisted knockout artist with an aggressive style that has made him a must-see performer for fight fans, 26-year old Edison Miranda (27-1, 24 KOs) truly arrived on the boxing scene in 2005, when he made his United States debut with a win over Sam Reese. Since then, fight fans around the globe have adopted 'Pantera', and he has responded with knockout wins over Howard Eastman, Sherwin Davis, and most recently, Willie Gibbs. The only blemish on his record is a controversial decision loss in Germany to IBF Middleweight 'Champion' and hometown favorite Arthur Abraham, a bout rightfully slammed as one of the worst officiated bouts in recent history. The Uncrowned World Champion, who broke Abraham's jaw in two places in the bout, refused to be discouraged by this miscarriage of justice though, knowing that as the number one contender in the world, he will have his day very soon.
A native of Tulsa, Oklahoma, unbeaten Allan 'Sweetness' Green (23-0, 16 KOs) has thrilled the boxing world not only with his ability to outbox his opponents, but with his tendency to knock them out as well. Talented and confident, Green scored the knockout of the year in 2005 when he took out highly-touted Jaidon Codrington in just 18 seconds, and he's gone 5-0 since, including wins over tough veterans Anthony Bonsante, Emmett Linton, and Jerson Ravelo. On March 3rd, the one time Light Heavyweight moves down to Middleweight and he's ready for anything Miranda will throw at him.
For more information on Seminole Warriors Boxing, please visit www.warriorsboxing.com and www.panteraboxing.com.