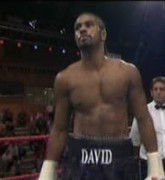 21.07.06- By James Slater: I was at the ringside tonight, to see London-based cruiserweight sensation David Haye defend his European title, in Manchester, England. Here is my report of the action.
Inside a sweltering Altrincham Leisure centre, WBC number one ranked Cruiserweight contender David Haye successfully defended his European Title with a unanimous twelve rounds points decision over Belgium's Ismail Abdoul. The fight was extremely dull and disappointing though, it has to be said. David, never once living up to his explosive nickname of "Hayemaker", boxed well within himself as he won every single round. While the durable Abdoul failed to offer much in the way of aggression, content instead to be picked off with left jabs on the way to a lopsided decision loss. The crowd wanted action, and when it refused to materialise some fans got up and left, mid-fight. The boos steadily cascaded down on the ring from the fourth round on. And , purely on value for money terms, the match was a huge letdown. There was simply nowhere near enough drama.
But, from a David Haye standpoint it wasn't such a bad night. He won, with much to spare. In the process keeping hopes of a world title fight very much alive. Also, in going the full twelve rounds for the first time – and easily – David removed some demons regarding his stamina. Previously, he had never gone beyond the eighth. So he must be well pleased after going the full championship limit so comfortably. He boxed in a patient manner that proved how much he has learnt, and how he has matured as fighter, since his loss to Carl Thompson. He can surely only feel more confident as a result.
Here's how tonight's action unfolded.
In the opening round Haye came out with a high guard and boxed warily. Abdoul did the same, as both men had a good look at each other. There was little thrown besides jabs from the pair of them, in an eventless opener. Haye just shaded the round.
In round two, after Haye had stood in his corner during the minute's rest, the pace remained the same as in the first round. David threw a good left hook off the jab, but nothing else of note for a while. Another left did score at the bell for Haye, as he put his second three minutes in the bank.
There was more fencing in the third, with good, stiff jabs thrown by Haye. He wouldn't unload anything big, but he was definitely dictating the pace of the fight. Some decent body shots also landed for him, as he won the round.
By the fourth, the boos started. There was disappointment in the fact that the fight had not caught fire. It wasn't likely to either, as David was content to box in a comfortable manner – without his opponent doing anything to change things. Things remained the same pretty much throughout. Haye, obviously wanting to conserve energy in a fight that always looked like going the distance, basically won with nothing more than his hard left jab. Other than a few eye catching single shots – such as the odd tasty looking uppercut and right hand to the head – he relied on the jab.
Standing up between rounds continually, Haye, ignoring the crowd's abuse, had a full gas tank in the final third of the fight. He was still jabbing Abdoul's head off, and also threw some sharp one-twos. With his challenger allowing him to box at a slow pace, David was really getting nothing more than a good workout. Ismail tried pressing forward in the ninth, but was
soon driven back by "The Hayemaker's" punishing jabs. Haye's left hand was noticeably lower now, but Abdoul couldn't make him pay for it. It was David's fight all the way.
He opened up with a classy three punch combo in round eleven, then got back behind his key punch. The fight never looked like producing a knockdown, let alone a knockout, and after three more dreary minutes the decision – a formality if ever there was one in a fight – was announced. All three judges scored the bout the same – 120 points to David Haye and 108 points to Ismail Abdoul. There were not many cheers as David's hands were raised.
Still, a win's a win, and Haye can only go on to bigger and better things. Hopefully, he will live up to his nickname as he does so.
Haye improves to 17 – 1 with 16 KO's, while Abdoul drops to 27 – 10 – 1 with 10 KO's.