31.05.06 – Photos: TOM CASINO / SHOWTIME – One day after arriving in Las Vegas, Jose Luis Castillo held an open media workout Tuesday at the Top Rank Gym. Saturday on SHOWTIME, Castillo will attempt to win the WBC lightweight title a third time when he faces defending champion Diego "Chico" Corrales in the third and final installment of their memorable, exciting, epic fight series. In Saturday's co-feature on SHOWTIME CHAMPIONSHIP BOXING (9 p.m. ET/PT, delayed on the west coast) from Thomas & Mack Center, Vic Darchinyan risks his IBF flyweight crown against fellow unbeaten Luis Maldonado..
Diego Corrales and Jose Luis Castillo are signed, sealed and ready to deliver once again LIVE on SHOWTIME Saturday, June 3, (9 p.m. ET/PT, delayed on the west coast). In a match-up of unbeaten flyweights in the SHOWTIME CHAMPIONSHIP BOXING co-feature, IBF/IBO champ Vic Darchinyan will defend against IBF No. 8 contender Luis Maldonado. The world's most talented and courageous lightweights, Corrales and Castillo will collide in their eagerly awaited rubber match for Corrales' WBC title at the Thomas & Mack Center in Las Vegas, Nevada. The doubleheader will be co-promoted by Top Rank, Inc., and Gary Shaw Productions, LLC, in association with Caesars Palace and Wynn Las Vegas.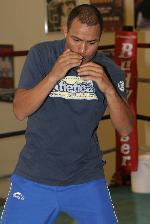 JOSE LUIS CASTILLO (57-7-1, 47 KOs)
"I think this third fight will be something special. If Corrales doesn't change his style and he fights the same way he did in the last two fights, this one will really be spectacular.
"I think people are really with me more than ever (so) this fight is very important to me. The key to my future is winning this fight and showing everyone what a good a boxer I am.
"I've had no problem managing my weight or with my training for this fight. I feel like I'm right on schedule. I'm scaling back on my running and my day to day workouts because I don't have much weight to lose at this point.
"No matter who I speak to, they ask me about my weight. It gets bothersome.
"I'm going to win on Saturday. I know I'm going to knock him out. I can feel it. I just know it.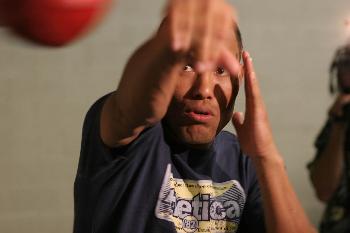 "I'm out to knock him out, to destroy Corrales. Every one keeps talking about how strong Corrales is, and he is very strong. But not as strong as everyone says he is."