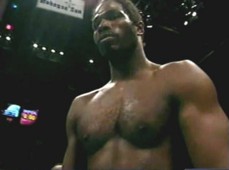 29.04.06 – By Jeff Bastasini: Nigerian heavyweight Samuel Peter, in stunning display of raw power punching, had little trouble stopping an overmatched, Julius Long, the 7″ ft journeyman, in the 1st round of their bout earlier tonight at the Mohegan Sun Casino in Uncasville, Connecticut. At the opening bell, Julius Long (14-8, 12 KO's) came out feebly attempting to keep Peter away using a weak jab, which, of course, had little effect on the huge Nigerian, who seemingly walked threw them as if they were a mere annoyances.
Once inside, Peter landed huge hooks to the head and body of Long, rocking him with every shot. Long wasn't standing for long, going down from a right hook by Peter. Badly hurt, Long got up and was immediately snowed under by a storm of punches by Peter. Finally, Long went down one more time, causing the refeee Arthur Mercante Jr. to halt the bout in round one, at the 2:35 point.
Well, I suppose this is a good thing for Peter, him getting another easy win. However, I don't know what he hopes to accomplish by taking on such a hopelessly overmatched opponents like Long, since a fighter can't really work on anything when they're completely destroying someone like this. Clearly, Peter is a fighter in need of rounds, rather than easy wins like this.
At a minumum, I'd like to see him at least go seven rounds. Yet, in fairness to Peter, it's not easy to find someone that can take his kind of power shots and remain standing for long. All the same, I think they could have found a guy a little tougher than Long, maybe someone like Ross Puritty.
So, where does Peter go from here? Ideally, it would be good to see him take on a fighter like Calvin Brock, who many people consider to be a top heavyweight. Still, that's not likely to happen, but it would be an interesting fight while it lasted. Though, I personally wouldn't like Brock's chances against Peter.