26.11.05 – Interview by Steve, "The Brown Bomber": No this isn't a cheesy Halloween flashback. If you haven't heard of Robert "The Ghost" Guerrero then you just haven't been looking into the featherweight division. At only 22 years old the current NABF featherweight title holder seems to have what it takes to be a unifying champion. What's so special about him you ask? Well for starters he's a southpaw, happens to be a whopping 5'10 with a 72inch reach, and has KO'ed 8 of his last 9 opponents. One of those KO's was Enrique Sanchez whose only knock down before that was by Marco Antonio Barrera!
The Brown Bomber caught up with Robert Guerrero to find out what the featherweight Ghost is all about as he prepares to face Gamaliel Diaz on December 2nd in Lemoore CA on Showbox.
BB- How did you get started in professional boxing?
RG- I grew up watching my Grandfather, Father, and two older brothers' box. I started boxing at 9 years old. I worked my way up to the junior Olympics receiving accolades. In 2000 I was in the Olympic trials, I lost in the third round of the trials to Clarence Vinson. I was only 16 and he was 21! But I learned alot at a very young age!
BB- Who in pro boxing past and present inspires you both in training and in the ring?
RG- I know it may sound funny, but I'm inspired by anyone that laces up their gloves and gets into the ring. I think it really takes a lot to be a boxer. The hard training, dieting, and concentration aren't easy. Not everyone can do it. No one person stands out to me because I think we all work hard, both young and old. Up until 3 years ago I trained in a hot and sweaty barn in Gilroy trained by my family. Anyone willing to do that has to really love the sport to commit to it like that.
BB- Where did you get the nick name "The Ghost"?
RG- From my family, at a young age. They said I was so quick that before someone could counter me I was gone. In front of them one second, and gone the next. Cutting off the ring one second, and disappearing the next.
BB- On December 2nd you're scheduled to fight Diaz. Why? What does Diaz really bring to the table for a top 10 featherweight like you?
RG- He's a top 10 fighter too. Going to Japan twice and winning against good opposition isn't easy. He hasn't lost a fight in 5 years. Diaz is a pressure fighter he likes to get close and throw bombs. I do to, so it should be a good fight.
BB- How about a title precursor fight against a veteran like Victor Polo?
RG- There is always good fights like that out there. With an ex-champion, you're going into his realm and you can really learn a lot from that one fight. I'm more than ready for a fight like that. Sure veterans can expose your flaws, but you should be able to learn from that during the fight. That's what makes a true well rounded champion, and that is what I want to be. Whoever my team puts in front of me I'll fight. I'm ready. I'm not afraid of anyone.
BB- What about another southpaw like Ricardo Vargas or Derrick Gainer?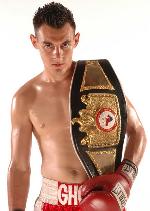 RG- Sure, but I really don't think it matters. I've fought 4 southpaws so far, and all with success. Two fights ago against Adrian Valdez, a very good southpaw who loves to counter. Being in a 12 round fight with him taught me a lot, but I finished him with a TKO in the 12th. I want a Derrick Gainer; I'm ready for anyone at this point!
BB- I've heard some talk about you going to England and challenging Nick Cook. Any truth to that?
RG- Actually there is a lot of truth to that. The WBC has been talking about a title elimination between Cook and I. Possibly on the same card as the Lacy vs. Calzaghe match up scheduled for March 4th. But, right now I'm focused on the fight in front of me. All I'm thinking of is Diaz.
BB- Being only 22 years old and seeing all of the real big money being offered at 130lbs in the super featherweight division any thought about moving up in a few years?
RG- Definitely, outside of the ring I'm a natural 135lbs, and I'm always fit and watching what I eat. First I want to really dominate the featherweight division unifying all of the major belts. After that I want to do the same in the super featherweight division. I'm a professional, and my body is my tool. I know I'm capable of stepping up to 130lbs.
BB- Shelly Finkel and Showtime have a long standing relationship. That being said, Shelly also manages two of Showtime's largest headliners, Jeff Lacy & Rocky Juarez. Are you worried about not being in the spotlight while in the shadows of these two? Also, if Rocky is in your weight class how can Shelly concentrate on elevating the two of you?
RG- I have no worries at all. Shelly is a good person and he is no fool. Why not use an excellent talent like me when you have it. Not worried at all. I'm very comfortable with him. He knows I'm the one. It's only a matter of time before the world knows too.
BB- Robert, it's customary for the Brown Bomber to share with you my dream line up for you:
1.Victor Polo – A good jump in competition for you.
2.Derrick Gainer- A must fight for him. He'll bring all he has at you.
3.Nicky Cook- An obvious must for the WBC title.
4.Rocky Juarez- A good puncher that would test your defense and chin.
5.The winner of Scott Harrison vs. In Jin Chi – The precursor to dominating the division
6.Juan Manuel Marquez- The ultimate test in unifying the featherweight class.
What do you think? Are you ready for that caliber of a line-up?
RG- If Shelly makes the fight who ever it is, I'm ready. It's no joke. I'll take on all that are put in front of me. I'm ready. This is my job. I have a wife and an 8 month old daughter to feed. I'm the Lords servant, submitting to his will. I'm focused on whatever I do. Right now it's boxing, and I'm not going to stop until I have dominated the featherweight and super featherweight divisions. After I go into history doing that, then I'll pursue my second dream, to become a pastor spreading Gods word about his son Jesus Christ.
Well, Robert "The Ghost" Guerrero is highly motivated to say the least. He seems to be the real deal. With a hard working upbringing in Gilroy he's definitely hungry.
Has Shelly Finkel found yet another champion? At only 22 years of age it's hard to tell, but the odds seem to be on his side. Focus is the key. But when it comes to opponents like In Jin Chi, Scott Harrison, and JM Marquez, it's going to take a hell of a lot more. It's going to take the stuff that legends are made of. If we find one of these top three in a match against Guerrero flat on their back asking, "What was that"? Then we will know that ghosts really do exist. At least ones from Gilroy California do.
The Brown Bomber- "If the truth hurts, remember who brought the pain"