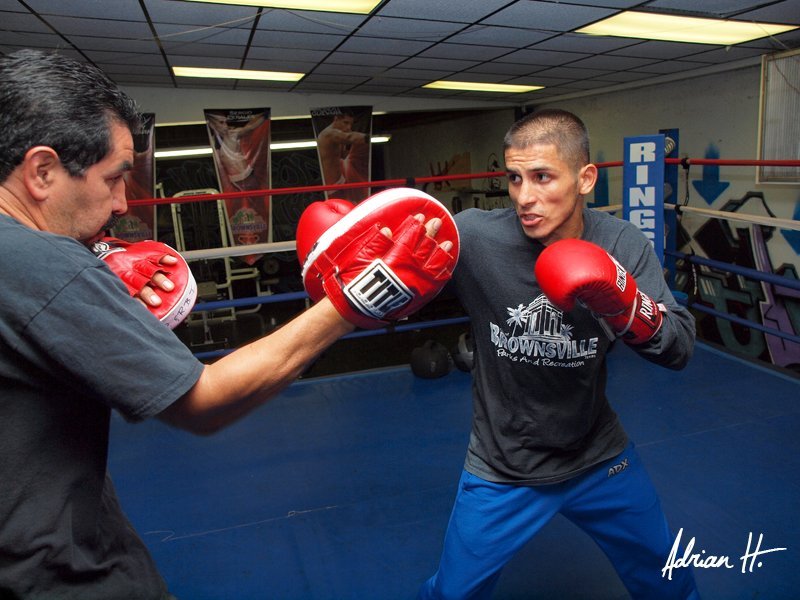 Photos by Adrian Hernandez / ESB – Sergio 'Time to Shine' Perales is expecting a tough assignment when he meets Darlington's Stuart Hall for the IBF Inter-Continental bantamweight crown at Doncaster's Keepmoat Stadium on May 11.
The pair will go head-to-head on the undercard of Jamie McDonnell's world title fight with Julio Ceja, and the American world-ranked number five is excited at his first European venture.
"I've been able to watch a few videos of him on the Internet," explained the 25-year-old, via e-mail, "and I think he is a good strong fighter with a good right cross. He's an all-round tough guy so I'm sure he's not going to just give me the title. I'm going to have to take it from him and it's going to make for a great fight.
"It's not going to be any surprise that I'm not going to be a favourite," said Sergio, about fighting away from home, "but I'm not going to let that bother me none. It's a fight between Stuart Hall and me, and that's what my focus is on."
Perales will enter the ring with an impressive ledger. The Texan banger has lost just one of 23 contests, and has knocked out 14 victims. With that kind of power in his fists, Sergio is confident he will beat former British champion Hall, and isn't ruling out adding another early finish to his record.
"Confidence isn't going to be a problem. With great training I know what I'm capable of, but it's tough to make a prediction. I'm going to win rounds, but if I see a chance for a knockout I'm going to take it. Getting a knockout is the best feeling there is in a fight, so of course I'm going to try to get him out."
Winning the Inter-Continental belt will be a huge incentive for both boxers. The title is a stepping stone to even bigger fights, and possibly a world title opportunity. With such a big prize on the line, Perales will put everything into his fight with 'Stuey' and is sure he will come out on top.
"It really means a lot to me," stated Sergio, about fighting for the belt. "I'm in the sport to be the best and I'm going to keep climbing until I reach the top. This is a huge leap forward in that direction so I am going to give it my all to come out as champion."
Dennis Hobson Promotions presents 'Making History' featuring Jamie McDonnell versus Julio Ceja for the vacant IBF world bantamweight title at Doncaster's Keepmoat Stadium on May 11.
The undercard for the show will include Stuart Hall and Sergio Perales contesting the IBF inter-continental bantamweight title; Dronfield's Lewis Taylor defending his International Masters (Bronze) middleweight title against Jason Ball; Doncaster's Jason Cunningham fighting for the English flyweight title; Doncaster heavyweights Dave 'The White Rhino' Allen and Carl Spencer; and Sheffield's Jamie Sampson.
For ticket information visit www.dennishobson.comor call the ticket hotline on 0844 324 5590.