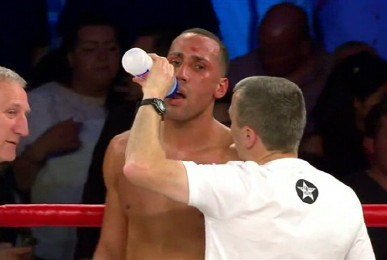 On May 23rd in Boston, Mass, North London's James "Chunky" DeGale (20-1, 14ko) will attempt to become the latest British fighter to travel to America and win a version of the world title, following Sheffield's IBF welterweight champ Kell Brook who dethroned Shawn Porter in Carson, California, last August.
DeGale will contest the vacant IBF 168lb strap vacated by countryman Carl Froch, against arguably the trickier of Michigan's Dirrell brothers, Andre. (24-1, 16ko)
Many British fans will remember him from his controversial SD loss to Froch in Nottingham as part of "The Super Six" tournament. A fight many Brits and Froch fans readily concede Dirrell was unlucky to lose.
DeGale is being forced to travel to the US for the fight as purse bids were won by Warriors Boxing, an outfit closely tied with omnipotent manager/adviser, Al Haymon, whose mammoth $3million offer dwarfed the considerable sum proffered by DeGales promoter Eddie Hearn.
I honestly believe that the confident Londoner will not allow the pressures of fighting abroad to faze him in the slightest, in fact, it's possible that a character such as "Chunky" will actually thrive off the pressure.
Of what promises to be an intriguing battle of southpaws DeGale has said of travelling for the fight; (To iFl's Kugan Cassius)
"I don't mind travelling. People forget I did that as an amateur. I've travelled all over the world and come back with medals, especially the Olympic gold. I was 80-1 underdog and I came back with it."
Its this mentality and strength of mind I'm referring to with DeGale who has improved much as a fighter since the controversial loss to old rival George Groves way back in 2011. For me he is the man riding high on momentum, coming off two huge knockouts last year. Of the previously undefeated and hyped American, Brandon Gonzales (18-1-1,10ko) and Mexican Marco Antonio Periban (21-3-1, 13ko)
For me they are the better performances compared to Dirrell. His last fight was a shut out decision of Derek Edwards (27-4-1,14ko) a man who has lost to every half decent fighter he's faced. Before that he fought an unheralded and average American called Nick Brinson (16-3-2). A fighter of his level, previous lay offs or not, should be fighting better guys than that. Anyway, predictably he blew the guy away in four rounds.
Of Dirrell and the type of fight he expects, Chunky said;
"He's very tricky, awkward. He's fast, he's got got good feet but I match him. In everything. All of his attributes, I match him. It's been seven years, I gotta do this properly. No way will I let this chance (of the title) pass."
I believe this to be a fair assessment as there are many similarities between the two when you watch them fight and that what's going to make this so intriguing. However, Jim Mc Donnell will have a plan of action for DeGale and in what I predict will be a close fight, the only concern I would have is that of the judges.
Wouldn't it be ironic that as he's been on the wrong end of a home-town decision in the past, Dirrell could be the benefactor of one come May? For fights of this magnitude and importance it would only be fair to have neutral officials.
When probed about the issue of neutrality, DeGale said;
"I don't worry about all that, I'll let Eddie (Hearn) deal will that. What I do have is full trust in the IBF and the American people too. I'm trusting and hoping that everything will be fair when I go over there."
If DeGale were travelling to a known judging hell-hole like Germany, where our fighters have been so unlucky in the past, then I would be more concerned. I believe he has enough talent to not leave this in the hands of the judges anyway, and has the slight edge in power over Dirrell for me. Whilst I expect this fight to go to a decision, it wouldn't stun me if DeGale actually found a shot to stop Dirrell late on in the fight after a bit of a chess-match.
In the interest of neutrality you can say the same about Dirrell, though I just feel the momentum is with the Brit, hence why Warriors boxing invested so heavily for this fight to swing whatever they can back in their fighter's favour.
To be screened in America as part of Haymon's PBC series, the UK TV rights are as yet undecided, though it's being assumed that Sky Sports who deal with DeGales promoter will screen the fight. However, Frank Warren and his Boxnation channel have certain broadcasting links in place with Haymon to screen PBC fights, so don't be surprised if it IS on Boxnation in the UK.
Either way, a small army will travel to see their man in Boston and an even larger one will be watching back home. Hopefully we watch DeGale solve "The Matrix" and hear those famous words, fulfilling his life long dream…
"And the……….NEW!"
Thanks for reading as always. Twitter @undilutedpoison