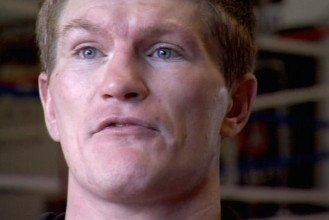 By Michael Collins: 33-year-old Ricky Hatton's comeback course is predictable at this point. Hatton has a fight against former WBA World welterweight champion Vyacheslav Senchenko (32-1, 21 KO's) next month on November 24th in Manchester, England. If Hatton wins that fight then he'll likely be fighting WBA World welterweight champion Paulie Malignaggi (31-4, 7 KO's) for his title in early 2013. This is the belief a lot of boxing fans, and Hatton hasn't said anything recently to give the impression that he'll do anything else.
Hatton already easily beat Malignaggi four years ago by an 11th round TKO in an easy fight for Hatton. It's no wonder that Hatton wants to fight this guy again given how badly he dominated him in 2008.
Before Hatton can get the Malignaggi rematch, Malignaggi, 31, has to win his next fight against 22-year-old Pablo Cesar Cano this month on October 20th at the Barclays Center, in Brooklyn, New York. Malignaggi should be able to win this, because his promoters at Golden Boy has been good enough to select Cano from the light welterweight division to face Malignaggi instead of choosing a welterweight for him to fight.