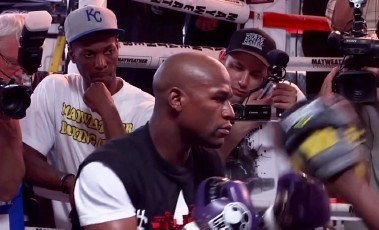 By Joseph Herron: This morning on ESPN's "First Take" with Stephen A. Smith and Skip Bayless, HBO's Larry Merchant chimed in on whether or not a mega fight with Floyd Mayweather Jr. and Manny Pacquiao would ever take place.
"What's stood in the way of a big Mayweather/Pacquiao fight taking place up to this point is a financial disincentive for both men," insists the world renowned boxing commentator. "Both fighters are already making 40 and 50 million dollars a year fighting lower risk opposition. There's no financial urgency to make this fight happen. This is a business as well as a sport."
While many fight fans and boxing scribes have called for a PPV boycott of both fighters' events to force the hand of the promoters and athletes involved, Mr. Merchant feels the prospect of that actually happening is highly unlikely.