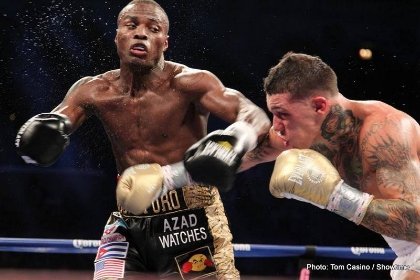 Peter "Kid Chocolate" Quillin (30-0, 21 KO's) remained undefeated and retained his WBO Middleweight title by defeating "King"Gabriel Rosado via technical knockout. The fight was stopped at 40 seconds of the tenth round by the referee on the advice of the doctor due to a deep cut on Rosado's left eyelid.
Quillin came out of the gate as the more confident and powerful of the two, dropping Rosado in the second. But by the fourth, Rosado found rhythm and confidence of his own. Rosado pressed forward and took the momentum away for virtually the rest of the fight.
But Quillin was counter punching and keeping each round close. In the ninth, with less than a minute left, Quillin landed a snap jab that sliced open Rosado's eyelid which began to pour blood.
In between rounds, the ringside physician cleared the challenger for the tenth. But referee Allan Huggins soon called for another look at which point the ringside physician changed course and advised Huggins to halt the fight.
Said Quillin after the fight, "I'm not a judge. I'm not an elected official. I did what I had to do as a fighter and I respect the call. The referees and doctors ringside did what they had to do to make sure the fighters are safe.
"I never expect an easy payday or an easy fight. I work hard every time for each fight… When you dedicate to win a title you need to give that person a sense of being able to achieve what they want. I am a world champion and I work hard. He has never been a champion and he doesn't know.
"I'm ready for anybody. I am a fighter and I worry about fighting. If it is a rematch, then I don't care. I work hard to be in this ring and I work hard to defend my title against anybody. I don't care if it is against my own mother."
Of the stoppage, Rosado told Gray, "I felt like that was B.S. This is a championship fight. We were going into the championship rounds. This was a competitive fight. I never complained about a cut. When the doctor saw my eye, I told him that I could see. It was not giving me any problems up to that point.
"I noticed if I backed him up with a jab that I was hurting him and I was doing that. But then the doctor called me over and stopped the fight. This is boxing. What about Gatti-Ward? They didn't stop that fight. Corrales-Castillo. We are warriors.
"I never even complained that I couldn't see. Of course I want a rematch. This is the story of my life. I'm the real Rocky Balboa."