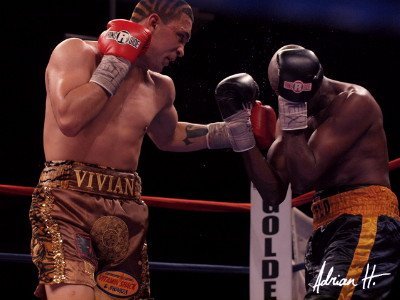 (Photo credit Adrian Hernandez) By Robert Jackson: In the Rio Grande Valley, Texas, middleweight/Jr middleweight pro Raul 'El Tigre' Casarez is a local legend. His amateur exploits that began at age 12 are well known to locals from Rio Grande City to Brownsville and throughout South Texas. El Tigre who sports a 19-2, 9 KO's professional record has been tabbed to face Alfredo 'El Perro' Angulo for his comeback fight scheduled for November 10, 2012 in California. In Marines gym on the eastside of Edinburg, Texas this writer got a chance to observe Casarez' training for his BIG fight and was granted a rare interview afterwards.
RJ: Hello El Tigre, How's it going? You're coming off of your biggest win over JC Candelo, what did winning that fight do for your career?
ET: Having fun, that fight was just another day at the office, something I love to do, having fun doing it.
RJ: Tell me about the name "El Tigre", where it came from.
ET: I was 12 years old at the time I fought at Brownsville Texas regional golden gloves, at that time Octavio Saenz who worked for Univison was there and there was a world champion Nestor "El Tigre" Garza who fought out of Reynosa, Mexico and they (Saenz) said I fought like him and reminded them of him and they started calling me tigre and tigre grew up now I'm El Tigre.